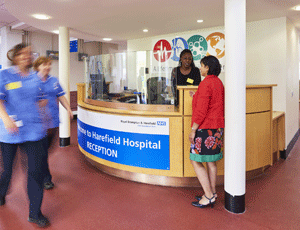 Harefield Hospital's outpatient department organises clinics for patients who are being investigated for a variety of heart and/or lung problems.
We would like to make your visit as stress free as possible and answer some of your questions before you come for your appointment. Please complete and submit the patient registration form before you arrive for your first appointment.
You can change or cancel your outpatient appointment by calling the appointment office on 01895 828696. The office is open Monday to Friday, 8am-4pm.
You can also inform us via email or online form.
Your appointment
We suggest that you allow three to four hours for your appointment. You may want to bring something to read.
To save you making several visits to the hospital, we may ask for some of the tests you need to be done on the same day.
We see patients in the order of their appointment times. Sometimes delays may occur, but we make every effort to see you as near to your appointment time as possible.
You may notice some patients arriving after you going in to see a doctor before you. This is because sometimes we have several clinics running at the same time, and they have an appointment with another doctor.
If you are diabetic, we suggest that you bring some food, just in case there are delays in clinic. We have a drinks machine in the department, and food and drinks are available in the Hungry Hare restaurant and the Friends of Harefield refreshment pavilion.
We suggest that you:
Bring a friend or relative along with you to your appointment – they can help you to remember what is said or make notes for you
Write down details of your symptoms, including when they started, and what makes them better or worse
Write down two or three important questions you may want to ask
Avoid bringing small children, where possible, so that you can concentrate on what is being said
Medicines
Please bring all your medicines with you when you come to your appointment. These should include any medicines you may have bought over the counter without a prescription, including herbal remedies.
During your appointment you will only be prescribed specialist hospital medicines that you need to start immediately. Non-urgent prescriptions should be obtained from your GP.
Who you will see
You will be seen by a clinician. This may be a consultant (senior doctor) or a member of his / her team. For example, a specialist registrar (SpR), senior house officer (SHO), nurse consultant or clinical nurse specialist.
Students 
As Harefield is a teaching hospital, medical students may be involved in your care. Students are always supervised by fully qualified staff. This provides valuable training for the students and does not affect the quality of your treatment.
If you do not want students to be involved, please tell us on the day. This will not affect your care.
Follow-up appointments
Your doctor may need to monitor you over a period of time. If this is the case, you may be given a follow-up appointment. 
If:
You need a follow-up appointment, we will send the details to you in the post
Your appointment is more than three months in the future, we will send you a reminder letter one month before your appointment
You need tests and your next outpatient appointment is before the tests, please let us know so we can move the appointment date
You become unwell before your follow-up appointment date, please visit your GP. If it is an emergency, please visit your closest accident and emergency department
Change of address, telephone and GP details
It is vital that you inform us of any change to your address, telephone number or GP details as soon as it happens. Please call us on 01895 828696. 
The NHS Friends and Family Test
We want to make sure that you have the best possible experience of care in Harefield Hospital's outpatient department. The Friends and Family Test is a way of gathering your feedback about this experience. After your appointment, we will ask you to give us feedback on your experience.
Your comments give us invaluable information on what you think of our services, which can be used to help make improvements, if needed.
Further information about the Friends and Family Test.
PALS (patient advice and liaison service)
If you need further advice, or have any concerns, you can contact PALS on 01895 826 572, pals@rbht.nhs.uk or visit the PALS office, near main reception.
Further information about PALS.
---
Useful links
Your outpatient appointment - Harefield Hospital - March 2017 (pdf, 365KB)
Contact details
Tel: 01895 828696
Email: apshh@rbht.nhs.uk
Overnight accommodation
Most outpatients come in for a daytime appointment without an overnight stay. However, if you are coming far for your appointment you may be able to stay in our overnight accommodation.