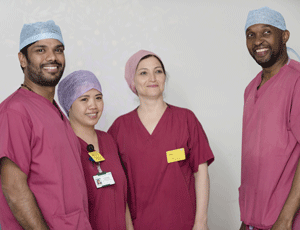 We welcome all feedback, including insights into your experience as a patient.
There are many ways of contacting us, as detailed below – please try to choose the one that best suits your needs, to help us deal with you as efficiently as possible.
Switchboard
Royal Brompton Hospital:  +44(0) 20 7352 8121
Harefield Hospital:  +44(0) 1895 823 737
Typetalk: dial 18001 followed by the hospital number you wish to call
Our services
Contact patient advice and liaison service (PALS)
Contact details if you need support as a patient or are dissatisfied with the service you are receiving.   
Change your outpatient appointment
If you have an outpatient appointment that you need to change.
A user-friendly way for you to provide comments and suggestions regarding the service you have received from our hospitals.
If you're concerned about a patient on on our wards, please call us.
Contact our foundation trust office for information about Trust membership 
Freedom of Information Scheme requests
Private Patients Services
Appointments and enquiries for private patients:  
Royal Brompton Hospital private patients: +44(0) 20 3131 5235 
Harefield Hospital private patients: +44(0) 1895 828 857
Royal Brompton & Harefield Hospitals Charity
Royal Brompton & Harefield Hospitals Charity funds innovative treatment and research. Vital to patients' lives and wellbeing, our projects make these specialist heart and lung hospitals not only excellent but extraordinary.
Join us
Contact the recruitment office
Queries concerning clinical training or placements at our hospitals should be addressed to:
Medical Human Resources 
Tel: +44 (0)20 7352 8121 ext 2234 
Media and communications