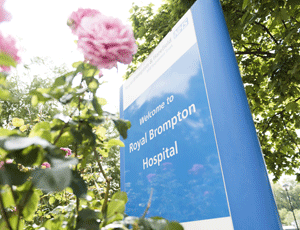 Royal Brompton Hospital is situated in Chelsea, right in the heart of London. The area is well served by the London Underground and bus routes and is close to the amenities of London.
The hospital has more than 2,200 staff, five dedicated operating theatres, one hybrid theatre and four catheter laboratories. Royal Brompton Hospital has 312 beds, including for:
We have an international reputation for the treatment of lung disease, the result of more than 170 years' experience. We are also a national and international leader in the treatment of heart conditions, with large research trials leading to significant developments in the area. 
Our hospital is home to Europe's largest centre for the treatment and management of cystic fibrosis and we see patients suffering from asthma and chronic lung conditions, including chronic obstructive pulmonary disease (COPD), from across the country.
 
Our adult congenital heart disease unit was the first of its kind in Europe and remains the largest.
 
Our leadership in both these fields allows us to attract the best staff from across the world. Our consultants work and teach internationally and publish research papers that set national and international medical standards.
 
Should they need it, our patients are supported by our dedicated adult and paediatric intensive care units. The hospital has seven dedicated adult critical care consultants and one of the country's largest academic research programmes in intensive care medicine. We are also one of the few hospitals in the country to have a professor of intensive care medicine.
Our research 
Our research into heart and lung conditions is driven by the needs of our patients and is aimed at developing more efficient and effective treatments. 
Our principal research partner is the National Heart and Lung Institute at Imperial College London.
Practicalities
Essential information
For inpatients
Download our guide for inpatients coming to Royal Brompton Hospital (pdf, 2.6MB)
For outpatients
For visitors
Care Quality Commission overall rating for Royal Brompton Hospital: Good
Inspection report published 22 February 2019