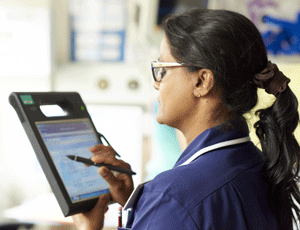 A foundation trust (FT) is made up of several thousand members, a board of governors and a board of directors (the trust's board).
Members of the public, patients and our Trust staff are eligible to become FT members and play an active part in influencing our future.
Join us and help inspire the future
Currently, our membership is around 10,000 and is made up of patients, carers, members of the public and staff.
Members can:
elect representatives to serve on the board of governors
stand for election to the board of governors
put themselves forward for appointment as non-executive board directors – including the chairman
make sure they are consulted on plans for future development of the foundation trust and its services.
Privacy notice
Please note that by joining as a member of The Royal Brompton and Harefield NHS Foundation Trust, the personal data you have provided will be processed for membership purposes and service evaluation, and in accordance with these legitimate interests under the General Data Protection Regulation. The details you supply will be held on a secure database and will also be securely shared with relevant third parties, for example, for Governor elections.
At any point you may cancel your membership by contacting the Membership manager at members@rbht.nhs.uk. 
Benefits of being a member
As a member you will have the opportunity to influence the services we provide and tell our elected governors what you believe would benefit the Trust. More specifically, you will be able to:
elect governors to feedback your views to the Trust
stand in elections as governor in your constituency
attend our annual members' meeting and other members' events
receive a copy of our newsletter
be involved in patient and public involvement activity
influence future services by providing feedback on existing Trust services as well as future priorities e.g. through consultations and surveys.
How do I become a member?
Becoming a member is easy and free. You simply need to be over 16 years of age and live in one of our four constituencies - North West London, Bedfordshire and Hertfordshire, South of England and the rest of England and Wales.
If you are interested in becoming a Trust member, please fill out the registration form. If you would like a paper version of the registration form or are already a member but need to update your personal details, please contact:
Ms N Adams
Email: members@rbht.nhs.uk 
Tel: 020 7349 7713
Royal Brompton Hospital 
Sydney Street 
London 
SW3 6NP 
Membership strategy 2019 - 2021
Royal Brompton & Harefield NHS Trust was authorised as a Foundation Trust in June 2009, becoming Royal Brompton & Harefield NHS Foundation Trust (RBHFT). As part of the authorisation process, a membership was recruited and elections were held to appoint the first Foundation Trust Governors. 
A Membership Strategy was devised in 2013 in order to set out plans for future development of the membership to ensure that this is representative of the communities served by the Foundation Trust - as required under the terms of the Health and Social Care Act 2012 and enshrined in the Constitution of the Foundation Trust. 
The Strategy for 2015-17 has now been updated following review by the Membership Steering Group prior to presentation to the Council of Governors on 17 July 2019. The Membership Steering Committee will continue to oversee implementation of the strategy and will provide regular reports on progress to the Council of Governors. 
Read the membership strategy: Membership Strategy 2019-2021 (PDF, 479KB)