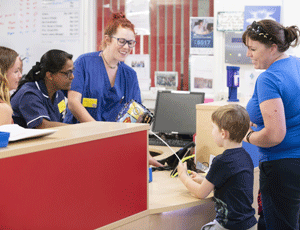 We welcome and encourage visitors to both our children's and adults' wards, but we do ask you to be mindful that patients tire easily and need plenty of rest. 
Visiting times operate seven days a week, but they vary slightly between wards, so please check with staff in person, or by calling, before your visit. Read details of individual wards. 
The nurses on the wards have responsibility for their patients' care and may on occasion ask visitors to stay for a limited period only or restrict the number of people present at any one time. 
Some of the wards have a 'rest period', which you are asked to respect.
Help us protect your loved ones
Please do not visit if you have a cough, cold or any other infectious illness – you could pass it on to a patient.
Visitors who have suffered with symptoms of diarrhoea or vomiting in the previous 48 hours are asked not to visit and to refrain from visiting for a further 72 hours. This restriction helps safeguard our patients from the risk of infection.
Children
It is not advisable to bring babies or very small children onto surgical wards. Again, this is because of infection risks. However, if you have no choice, please ensure they are supervised at all times. When children become noisy or upset, we may have to ask you to leave as this can disturb patients.
Flowers
Unfortunately, flowers are not allowed in some areas of the hospital. This is because the stagnant water is a breeding ground for bacteria. The bacteria could be transferred from the water to surgical wounds or intravenous lines (drips), causing serious infection. 
Flowers and plants are not allowed in the intensive care unit, or high dependency unit.
Smoking
Royal Brompton Hospital is smoke free so please help us to protect the patients by not smoking immediately before visiting. Patients who smoke will be offered nicotine replacement support while in hospital and you can help by supporting them in their efforts to quit.
For support quitting, contact your GP practice or the NHS stop smoking service on 0800 0221 4332.
Help to fight infection
You will doubtless have read in the news about hospital-acquired infections like MRSA. We tackle these infections very seriously and have a good track record in this area. You will see alcohol pump dispensers at the entrance to each ward and at patients' bedsides. We ask you to do your bit by using these when you enter the ward or at the bedside.
Read more about infection prevention.
Overnight accommodation
We have accommodation available for visitors if there is a need to stay overnight. 
Find out visitor accommodation rates for Royal Brompton Hospital.
Find out visitor accommodation rates for Harefield Hospital.