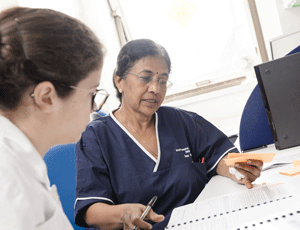 Patients have the right to access personal information about them held by the Trust. You can view the information in person or you can get a copy.
There is no charge for accessing your medical records.
Apply to access your records
To access your medical records you should send an email to subjectaccess@gstt.nhs.uk asking for the application form. 
You will then need to complete the form and return it, along with a copy of a form of identification such as a passport or driving licence.
For confidentiality reasons, we will need to make sure that it is you or a personal acting on your behalf who is applying to see the records. If someone is applying on your behalf, we may ask for extra information and will need proof of their identity.
What happens next?
You should receive access to your records within 30 days. In exceptional circumstances this may not be possible. If this is the case, you will be told within 30 days.
Contact
If you would like further information, please email subjectaccess@gstt.nhs.uk.