Joshua Newman was born at 28 weeks, and weighed just 2lbs 7oz. He was diagnosed with congenital heart disease while in the womb and at just one day old was transferred to Royal Brompton's paediatric intensive care unit (PICU). He had two holes in his heart and a narrowing of the aorta, the main artery in the body.
Suzy, his mother, explained: "He needed surgery on his heart, but the clinicians caring for him wanted him to grow first. That's where the rehabilitation care programme came in. Philippa (Wright) was involved in Joshua's case from the start, modifying his diet to ensure he had extra calories to help him grow quicker."
Eventually, surgeons had to operate when Joshua still only weighed 2lbs 10oz and his heart was the size of a walnut.
Commenting on the surgery, Mr Olivier Ghez, consultant paediatric cardiac surgeon, said: "Although Joshua was born with a relatively common congenital heart defect, he was the smallest baby we had ever operated on with this condition. We decided we needed to carry out the operation despite the risks associated with him being so small. The procedure was a success and allowed him to survive and grow."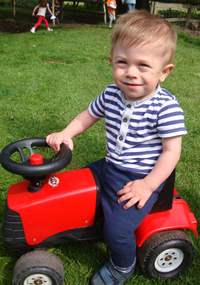 The operation was swiftly followed by surgery for a life-threatening bowel condition, common in premature babies, which was performed at Royal Brompton by a paediatric surgeon from Chelsea & Westminster Hospital. 
Following this, it became obvious that Joshua would need further heart surgery once he had grown stronger. Again, the RCP team worked hard to get him well enough for surgery.
Suzy said: "His first operation bought him some time; without it he wouldn't have survived. We needed to get him strong enough for further major surgery and the team was fantastic. Physios kept his muscles and joints moving and also helped with exercises to strengthen his lungs. Dietitians devised a high-calorie diet and occupational therapists worked with the play team to provide stimulation for him. The speech therapists also helped Joshua with his swallowing as he had been tube fed since he was born."
Twelve weeks after his first operation, he was ready for his second, this time weighing 5lbs 5oz.
The surgery, again performed by Mr Ghez, was a success. Joshua was allowed to go home 22 weeks after he was born, having spent 19 weeks on PICU.
Suzy explained: "I was very nervous about bringing him home as we were so used to having everyone on hand in hospital. But we had fantastic support – the referrals to our local nurses and community workers were all sorted out for when we got home."
Joshua is reaching all his normal developmental milestones and is a happy, boisterous toddler. He won the Pride of Essex, 'Child of Courage' award in November 2014.
Suzy said: "I'm indebted to everyone at Royal Brompton. I think the rehabilitation care programme is fantastic – it helped Joshua get to a point where he could have the surgery and that was invaluable. Having the team plugged into his care from day one really made a difference. We will be forever grateful."