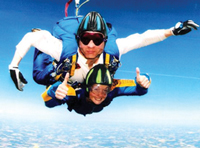 Sally-Anne Grainger enjoys horse riding with her two daughters and has just completed a charity skydive. But just 18 months ago she underwent a life-saving double lung transplant at Harefield Hospital.
Sally-Anne waited over three years for her operation due to the challenge of finding the right sized donor lungs. At just 4ft 11ins, she was too petite for most adult lungs and had to wait until the perfect match was found.
She says: "Having the transplant has literally given me my children and my health back. Before this, I spent up to eight months of the year in hospital and used to cough 400 times a day. Some days I was so tired I couldn't even talk to my girls on the phone."
Sally-Anne, now 30, was born with the genetic disorder cystic fibrosis, which attacks the lungs and digestive system.
When her second daughter was two, doctors at Birmingham Heartlands Hospital told her that she needed a double lung transplant to survive. 
"I decided to stop feeling sorry for myself and think positively about the future," she says.
Sally-Anne chose to have her transplant at Harefield. She says: "Harefield has a great reputation and I knew that I would get the best possible care there. From my first appointment with consultant respiratory physician Martin Carby I always knew that I was in safe hands.
"Harefield's transplant coordinator Nicky Crouchen was a life-saver. She was more like a counsellor to me and kept my spirits up when I got down. It was Nicky who called one afternoon to say that a donor had been found who may be suitable and I had the transplant at 11.30 that evening."
The operation was a complete success. Sally-Anne was breathing without a ventilator six hours later and up and about after 36 hours. She says: "I woke up to find one of my little daughters holding my hand which was an extremely emotional moment for us both."
Since returning home, Sally-Anne has enjoyed running in the park with her children, has taken up horse riding and fulfilled a life-long ambition to take part in a daring tandem skydive.
Mr Toufan Bahrami, consultant cardiothoracic and transplant surgeon, commented: "As Sally-Anne's chest cavity was small and there were a lot of adhesions, it was a difficult operation, but all went smoothly. She is like a different person now and I got great satisfaction from seeing her run for a bus after her last appointment – before the transplant she could hardly walk."