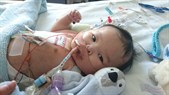 Samuel's mother Wai discovered that her son had a complex heart condition when she had her 20-week scan during pregnancy. Wai was immediately referred to Royal Brompton where she was seen by fetal cardiac nurse specialist Susanna de Sousa and consultant fetal cardiologist Dr Julene Carvalho. 
Wai explains: "As soon as we found out about Samuel's heart condition we were immediately squeezed in to have a heart scan the following Monday. It was amazing to be seen so quickly because, as you can imagine, that weekend was absolutely heart-breaking for us.
"Susanna stayed with us to answer our many questions and check we were okay. The service was incredible."
The birth
The following months were nerve-racking for the family. Wai was closely monitored throughout her pregnancy and an induction was planned for baby Samuel, but he decided to arrive within minutes of Wai going into labour at her local hospital. Then, along with his parents and a team of highly specialised and well-equipped medics and support staff, he travelled to Royal Brompton when he was just two days old.
The full extent of his heart problems was revealed by scans showing that he had very rare congenital heart malformations, superior-inferior ventricles with concordant connections, an autopulnomary window and an atrial septal defect (hole in the heart).   
Baby Samuel was sent home when he was one month old, but things weren't going as planned. He returned to Royal Brompton for a short time where he went into cardiac failure, but recovered and was soon stable enough to go home. 
50/50 chance 
After a short period spent at home together as a family, Samuel's heart failed again when he was four-months old, however this time was significantly more serious and he needed an emergency procedure to enable him to breathe.
He spent two weeks at his local hospital until he was strong enough to be transferred to Royal Brompton when he was four and a half months old. At this point, Samuel had his first cardiac surgery to close the aortopulmonary window in his heart and mend the hole in the wall that separates the top two chambers.
Wai says: "We nearly lost him. He spent 14 hours in surgery and doctors told us he had a 50/50 chance of survival. All we could do was wait. My husband broke down, but I knew there was hope as long as my son was alive."
Samuel also needed extracorporeal membrane oxygenation (ECMO). Royal Brompton is one of five centrally-funded severe acute respiratory failure centres in England able to offer ECMO – highly specialist equipment which oxygenates the blood from outside the body when the lungs are unable to do so.
However, after his operation, Samuel suffered further complications with his heart and lungs and needed a second operation that lasted a further seven hours, during which doctors discovered he had a narrowing in his bronchus and needed donor tissue to make his aortic arch – the portion of the main artery that bends between the aorta – larger.
The team also had concerns about Samuel's tolerance to food as they believed it could have an effect on his development. Doctors from neighbouring Chelsea and Westminster Hospital were quickly called over to examine Sam and a decision was made to insert him with a percutaneous endoscopic gastrostomy (PEG), a tube that provides a means of feeding directly into his stomach.
Wai says: "I was very vocal about my hesitancy for Samuel to have the PEG inserted, but doctors from both hospitals talked me through the procedure and listened to my worries, explaining the benefits it would have for someone as fragile as him.
"The gastro service we had has been brilliant and you can see that Royal Brompton and Chelsea and Westminster communicate really effectively. Whenever Samuel is a patient at Royal Brompton, I know doctors from Chelsea and Westminster will be at his bedside whenever he needs them."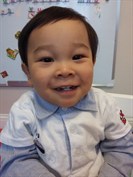 One big family 
Samuel has just turned two and his heart problems have been treated successfully. However, he still requires close monitoring by Royal Brompton specialists and is treated by doctors at Chelsea and Westminster Hospital for his gastric problems.
Wai adds: "Samuel's issues are very complex and, like any other person who has multiple things wrong with their health, we have to see a number of specialists in different clinics. The relationship between Royal Brompton and Chelsea and Westminster is seamlessly consistent – there is a brilliant link between the two.
"Royal Brompton is just one big family to us. Sam and I spent seven months there – with my husband and our three-year-old daughter visiting at weekends. The hospital will always be a place of hope for all of us.
"Sam wouldn't be here today if it wasn't for the care and the expertise he received at Royal Brompton. To lose that service, and the connections we've built with everyone, would just be horrendous for us, given all that we've been through, not to mention the thousands of patients who will depend on them for the same amazing care in the future."