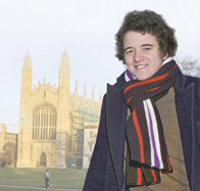 Musical prodigy and Royal Brompton Hospital patient, Alex Stobbs, is a familiar face to many after appearing in two Channel 4 documentaries and publishing a book which was serialised in the Daily Mail.
Alex, now 19, has cystic fibrosis and has moved millions of viewers and readers with the story of how he has lived with the crippling illness, and achieved his ambitions of conducting Bach's Magnificat at Eton College and the Matthew Passion at the Cadogan Hall in London. 
'A Passion for Living' tells the story of a year in Alex's life, from April 2008 to 2009. It covers his life at Eton, spells at Royal Brompton Hospital and his musical career.
In the book, Alex describes his determination to live as a normal teenager, despite his illness, which attacks the lungs and digestive system and makes him dependent on daily drugs, oxygen and intensive physiotherapy.
Alex has been treated at Royal Brompton Hospital since he was two and dedicated the book to his family and the 'fantastic staff at the Royal Brompton Hospital who've managed to put up with me for over nineteen years'.
In his book, Alex describes Royal Brompton as being 'as familiar as a second home'. 
Commenting on Professor Andy Bush, who treated him until aged 16, Alex says: "He never tried to hold me back, saying it was far better for people with cystic fibrosis to be feisty and keep proving their doctors wrong."