A patient's view: specialist lung surgery
Georgie Wren was referred to Royal Brompton Hospital by the William Harvey Hospital in Kent, following several bouts of pneumonia and an X-ray which showed a problem with her left lung.
Her mother Lorna says: "Despite having hospital treatment for pneumonia, Georgie had always been in very good health. She loved dancing and cheerleading and never struggled for breath. I was not unduly concerned and as soon as we met Professor Andy Bush at Royal Brompton, I knew that Georgie was in safe hands."
At that first appointment, an X-ray showed that Georgie's right lung was bigger than her left and Professor Bush immediately arranged for her to have a bronchoscopy exploration under general anaesthetic. 
After the bronchoscopy, Professor Bush broke the news to Lorna that her daughter had a tumour on the airway leading to her left lung which had damaged it, and that her right lung, which he nicknamed 'super lung', had grown to compensate. 
"I was shocked, but was reassured that it was not life-threatening," says Lorna who, along with her partner Steven, then met Professor Bush and consultant thoracic surgeon Mr Simon Jordan, to discuss the next step in Georgie's treatment.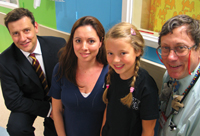 "Mr Jordan explained that the tumour had to be removed," Lorna continues. "We discussed the options available and agreed that if Georgie's left lung couldn't be repaired, it would be removed. Both he and Professor Bush made us feel very confident that Georgie would get the best possible treatment and made it clear that we could contact them anytime if we had any concerns."
After a nerve-wracking wait, while the operation was carried out, Lorna was called by Mr Jordan to say that Georgie was fine, although the whole of the left lung had had to be removed with the tumour.
Says Lorna: "She made a remarkable recovery and was up and about within days asking to go and visit the fish in the hospital courtyard's pond."
Mr Jordan comments: "Georgie's was a pretty rare case - it is unusual to have to remove a lung in such a young child. However, her right lung is doing a great job compensating for the loss of her left lung, meaning that she is able to live a full life and enjoy activities such as dancing again."