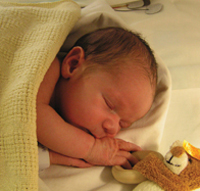 The birth of Alexander McPhee, a beautiful baby boy weighing a healthy 8lbs 13oz, was a cause for much celebration. Until his mother, Libby received the type of news that every parent dreads.
"We had no reason to suspect that anything was wrong. I was due to be discharged from hospital when one of the midwives said she thought he looked a bit blue around the mouth. Tests quickly showed that he had a serious heart condition," Libby remembers.
"My immediate problem was tracking my husband Andy down as he had been out to celebrate Alexander's birth with both sets of our parents. He'd gone to bed with earplugs in and couldn't hear the phone. 
I contacted my mother, who had to dash over to wake him up. It was a terrible shock to be woken with such bad news."
Andy joined Libby at Kingston Hospital in Surrey where they were told that Alexander was being referred to Royal Brompton. "We were reassured that we would be in expert hands," says Libby, "and despite being in a terrible state when we arrived, as soon as we met the lovely staff at Royal Brompton, we felt confident in their ability to look after both Alexander and us.
"We were treated with great respect, had all our questions answered and everything was explained to us in detail. I hadn't slept for two nights and was exhausted, but once we knew that Alexander was in safe hands, the nurses found a place for us to sleep for a few hours. 
"All the staff were brilliant and many who we met when we arrived, such as the intensive care nurses, supported us throughout our time at the hospital."
The two main arteries connected to Alexander's heart were the wrong way round so blood wasn't being oxygenated properly. His coronary arteries were also not growing in the right place.
Libby says: "Alexander couldn't have the full corrective surgery straight away, but had to wait until he was 18 months old. As a short-term measure, he was given a procedure to force a small hole in his heart open to allow the blue and red blood to mix more easily."
Cardiologist Professor Piers Daubeney described what the procedure involved and explained that Alexander would need another operation seven weeks later.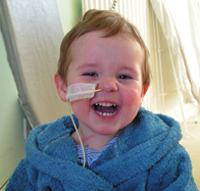 "Alexander stayed in hospital for two weeks following the procedure and we were able to stay with him, sleeping in a room nearby. I could continue to breastfeed so we never felt separated from him during our time in hospital." 
Although the new parents were nervous about taking Alexander home, they had plenty of support as the Royal Brompton team had been in touch with their GP and community nursing team and arranged follow-up appointments.
Seven weeks later, Alexander came back for a procedure to train the heart muscles to work harder and connect the two main arteries. 
"This procedure was carried out by surgeon, Mr Hideki Uemura, who explained exactly what he was going to do and why it was necessary. We were also taken to see babies in intensive care who had had similar surgery so that we knew what to expect afterwards," Libby remembers.
The procedure was a success, but Alexander struggled to breathe for several weeks afterwards and had to be fed by a tube, so was also cared for by the gastroenterology team at neighbouring Chelsea and Westminster Hospital, with whom Royal Brompton has close links.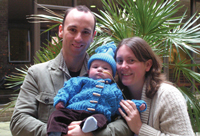 When Alexander was 18 months old, he returned to Royal Brompton to have further open heart surgery. "No-one could have done more and we were overjoyed that the operation was a success," says Libby. "One of the best moments was seeing him sitting up and eating a fish finger a few days later - it was the first time he had eaten solid food," says Libby. 
Since the operation Alexander has suffered nothing more than a few physical delays, helped with regular physiotherapy, but other than that leads a normal life and is looking forward to starting school in September.
Libby says: "Although our experience was traumatic, it would have been 100 times worse without the supportive team at Royal Brompton Hospital. We got the best possible care and have stayed in touch with the many friends we made among the staff at the hospital."