Eighteen-year-old Nathan Brandrick is being treated for a complex congenital heart condition. He is now being looked after by Royal Brompton's adult team, but his journey at the hospital started four years ago in the children's unit.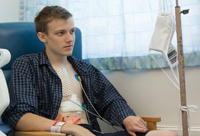 Nathan's condition was first diagnosed at 14 when he was taken to Lister Hospital in Stevenage, near to the family home in Langford, Bedfordshire, after a sudden change in the appearance of his chest. His blood pressure was extremely high and an X-ray showed a deformity in the shape of his ribs. He was immediately referred to Royal Brompton.
His father, Michael, said: "We had no idea that Nathan had high blood pressure as it had never been taken, so his heart condition came as a complete shock to us. It was reassuring when he was transferred to Royal Brompton and put under the care of consultant paediatrician, Dr Alan Magee." 
Tests showed that Nathan's aorta was completely blocked and consultant cardiac surgeon, Mr Darryl Shore, operated to cut the blockage away and insert a graft.
Michael said: "It was a complex case. Nathan's arteries had completely re-wired themselves. It turned out to be a major operation. Although we were nervous for Nathan, he wasn't frightened. He believed he was in the best hands and he trusted the team at Royal Brompton to look after him.
"All the staff on Rose Ward, from the porters to the nurses, cardiac nurse specialists, anaesthetists and consultants, were great and bent over backwards to support us as a family before, during and after the operation."
Nathan had a tight narrowing of his aorta blood vessel (coarctation) and an abnormal aortic valve, which was the cause of his high blood pressure. Regular checks as an outpatient showed that despite the successful surgery his aortic valve was becoming a problem. In early 2012, it was agreed that another operation was needed to replace the first part of the aorta and give him a new aortic valve. 
By this time, Nathan had moved from paediatrics to adult services at the hospital in what both he and his parents describe as a "seamless transition". He and the family were supported throughout this process and during Nathan's time on Paul Wood adult ward, by clinical nurse specialist in ACHD and transition, Lynda Shaughnessy.
Michael commented: "He transferred when he was 17 and we still see many familiar faces each time we visit the hospital, which is reassuring.
"The main difference as an adult patient is that his treatment is explained to him in a lot more detail, but otherwise we have experienced the same dedication from the whole team as well as good back-up in between appointments."
Nathan added: "I have found it helpful to have everything that is happening explained to me and everyone at Royal Brompton has been really nice."
His heart condition has not held him back. Nathan is studying countryside management at college and volunteering at his local RSPB centre.
It's all in the teamwork. The team that looks after Nathan includes:
Consultant cardiologists
Consultant anaesthetists
Cardiac nurse specialists
Intensive care specialists
High dependency unit nurses
Echocardiographers
Consultant electrophysiologist
Radiologists
Surgeons
Phlebotomists
Perfusionists
Physiotherapists
Medical secretaries
Receptionists – inpatient and outpatient
Ward clerks
Healthcare assistants
Transport staff and porters
Catering staff
Patient Advice and Liaison Service