Michael, from London, was diagnosed with cystic fibrosis as a baby. He was referred to Royal Brompton, aged four, by his GP and local children's hospital.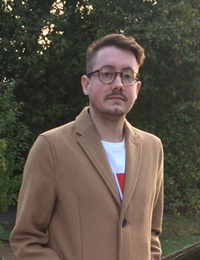 "My condition didn't affect me as a young boy but when I was 10 I started to get chest infections about twice a year. From then onwards I went to Royal Brompton every three months for a two-week course of IVs (intravenous antibiotics) to keep me healthy. I still wasn't affected by my cystic fibrosis much and played football with my friends."
By the age of 17, Michael was having more frequent chest infections and needed to stay at Royal Brompton more often.
"Each time I would get a productive cough, a tight chest, difficulty breathing, fever and I had no energy. The care from all of the doctors and nurses at Royal Brompton was very good and all my tests and treatment were always done on time."
His condition deteriorated two years ago when part of his right lung collapsed. While chest drains helped initially, his lung kept collapsing and would not heal.
"I ended up staying in hospital for nearly a year," Michael remembers. "The doctors said my lung wasn't healing because all my previous infections had damaged the lining of my lung, making it weak.
"It was horrible not being able to see my friends, missing family birthdays and doing the things I used to do, but I knew that, as a specialist lung hospital, Royal Brompton was the best place for me to get the care I needed."
The cystic fibrosis team asked Michael if he wanted to join the lung transplant list and he had general health checks to see if he was suitable.
"Transplant surgeon, Mr André Simon, visited me on Foulis ward to tell me more about the operation because I was too ill to go to Harefield Hospital where the transplant team is based. He was confident about doing it and told me not to worry, which was reassuring and made me feel better."
Two weeks later a suitable pair of donor lungs became available and Michael was transferred from Royal Brompton to Harefield by ambulance.
"I wasn't living a good life at that stage. I was so ill that I couldn't even get out of bed to have a shower – I would cough so much that I would end up being sick.
"It was a relief to know that would soon be over, but it was also scary thinking about the surgery. The staff at Harefield explained exactly what was happening to me and I was involved in every step. That was really good because it would have been more nerve-wracking not knowing what was going on.
"I was told that my new lungs had been put inside a machine, called the Organ Care System (OCS), which recreates the conditions in the body and makes lungs 'breathe' to see how well they are working. It meant the transplant team could assess whether or not the lungs were suitable for transplantation. The staff explained the machine was a piece of cutting-edge technology and that I was one of the first lung transplant patients to benefit from it at Harefield – previously it was only used for heart transplants.
"Everyone made me feel as at ease as possible in the hours before the operation and kept me updated on when I was going into theatre.
"I woke up on the intensive care unit about 36 hours later and stayed there for another three days, before being taken to the ward. I was told that everything had gone really well and I started to go on the exercise bike for short periods of time and walk around the ward.
"The nurses on the ward were friendly and helpful, the food was good and I enjoyed having my own room with a TV. The physiotherapists were also very nice – it was a really good hospital to stay in.
"I was discharged after about three weeks, which was less time than I thought I'd need to be there for.
"Now I'm doing really well and taking my dogs for walks again. The transplant has changed my life. Even though I was slightly nervous to be one of the first lung transplant patients to receive my donor lungs from the OCS, now I'm really pleased that I was able to benefit from the new technology."