Lucy's story
When Lucy Hijmans was born, her heart was only able to deliver half the oxygen she needed and she could only just breathe for herself. Following an early pregnancy scan, her mother's obstetricians referred her to Dr Julene Carvalho, a consultant fetal cardiologist at Royal Brompton, who diagnosed her heart problem as transposition of the greater arteries, which is a type of congenital heart disease.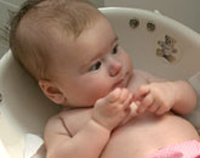 Lucy's mother Penny recalls, "It was a terrifying time but the doctors and nurses at Royal Brompton were so professional and reassuring and it gave us more confidence. We were able to understand more about what the diagnosis meant and what would happen when Lucy was born."
Lucy's diagnosis meant that she would have to have surgery in the first few days of her life, with the likelihood of further surgery at a later date. Both of Lucy's parents were given the opportunity to visit Royal Brompton before the birth to see where the surgery would take place. They also visited the hospital's paediatric intensive care unit (PICU) and Rose Ward, where Lucy would stay as she recovered. 
The birth
Lucy was born at Chelsea and Westminster Hospital, where the pregnancy was induced. Immediately after her birth, she was moved to the neonatal unit at the hospital to stabilise her before she was moved down the road to Royal Brompton, where her surgery was to take place.
Her parents were able to be with her and her mother was cared for by the community midwives. Surgery was scheduled and just eight days after her birth, Mr Darryl Shore and his team performed an arterial switch procedure and patent ductus arteriosus ligation.
During this procedure, the two main blood vessels coming from the heart were corrected and switched, as they were performing the wrong functions; the vessel to transport blood around the body at high pressure was going to the lungs and the vessel that should have gone to the lungs was sending out blood to the body.
Lucy was cared for on PICU following her operation and was mechanically supported by intubation, ventilation and chest drains. The surgeons were able to close her chest soon after her surgery and her steady progress allowed a slow weaning from the ventilator. When she was well enough, she was moved to Rose Ward to complete her recovery. Her parents were able to be at her side throughout this period and lived in the hospital.
Home at last
After a month, Lucy was well enough to go home with her parents and older brother, with on-going support from the nurses and doctors at the hospital. Penny says, "We were so delighted to have her home. It was touch and go a few times during her surgery but with the skill of the surgeons and the whole team at Royal Brompton, she was able to pull through.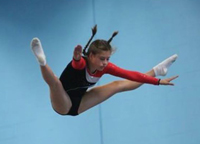 "It was so wonderful to finally be able to take her home, and we knew that if we had any problems or questions there would be a nurse specialist available to talk to us and advise or reassure us."
Lucy needed a second procedure when she was two to insert a tiny coil into her heart to keep her arteries open. This was done by inserting a catheter into a blood vessel in Lucy's groin which was then guided to the heart. The coil was then moved up the catheter. This minimally-invasive procedure was carried out by paediatric cardiologist Dr Michael Rigby. We stayed overnight in Royal Brompton and the next day we left.
The future is bright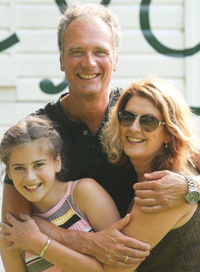 Lucy is now 12 and is thriving. She is at secondary school, has lots of friends and is a keen and talented gymnast. So talented, in fact, that there is talk of her trampolining at a national level, something at her mother would never have been able to imagine when she was in intensive care and fighting for her life. She has a check-up once a year as part of the hospital's outreach programme, which means the team from Royal Brompton see her at Worthington Hospital so the family don't have to travel to London.
Penny says, "I cannot thank the doctors and nurses at Royal Brompton enough for caring for Lucy and for giving her such a great chance at life. Whenever I see her compete in a gymnastics competition I can't believe that she is the same person as the tiny little thing that was born with such serious heart problems.
"The team at Royal Brompton have always been so supportive and ready to go the extra mile to help. Lucy still sees Dr Rigby at Worthington hospital, so the continuity of care is fantastic. Having the clinic at a nearby hospital is also brilliant, as getting into London can be quite stressful and means more time off school for Lucy. It is amazing that we can get the same quality of care locally through the outreach programme."
"Even though Lucy may need further surgery in the future, I have every confidence in the team at Royal Brompton and I am very positive about Lucy's future, especially given what she has achieved so far. I hope our story gives hope and encouragement to other families in a similar position. Even though things may seem bleak, with a fantastic team of healthcare professionals helping you, the future is bright!"