A patient's view: Some of the best interpersonal skills in the NHS!
As a child, I have memories of having 'chesty' colds, time off school and many home visits by the GP including the regular Christmas one (where I always shared something from my Christmas stocking!). Prior to this, I had also suffered from quite severe eczema.
Although I had no admissions to hospital during my school years – I remember frequent occasions of struggling for breath. For example, if I made it around the athletics track without stopping at least three times, I thought I was an Olympian!
After the birth of my first son, I was suddenly 'hit' by the worst asthma I had ever experienced – not able to walk more than a couple of paces at a time. This resulted in my first course of steroids and repeated severe exacerbations. I went on to have two more children – I was on and off steroids until, following the birth of my third son, I remained on them permanently; a reduction in dose would lead to an 'attack' and yet another emergency admission to hospital. Thankfully I was referred to Royal Brompton.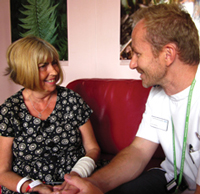 When my referral to Royal Brompton was made I was already steroid dependent (which brought other health challenges!), yet have not only been fortunate enough to bring up three children and have a successful career, I have had very few emergency admissions in all those years. My asthma has been completely debilitating at times – but with excellent treatment, changes to lifestyle, including early retirement, I have been enabled to manage both my asthma and have a fulfilling life.
The treatment for my asthma has changed over the years – with the team always using innovative and individual approaches. As I have got older and asthma more challenging – the benefit of elective admissions and appropriate treatment have, without hesitation, kept me alive and able to enjoy a quality of life that without such treatment would not have been possible.
But this is not the only thing that makes the management and treatment of my asthma special – it is the exceptional staff. To be treated as an individual by your consultant (Dr Menzies-Gow) and specialist nurses (Suzie and Markus) – is paramount. I am understood, shown respect, and invited to share in my care. I know that I have the best possible individual specialists that someone with severe asthma could have – what confidence when you suffer from an ongoing and debilitating disease! To also experience the most amazing nursing care – which I have found exemplary and supported by a range of 'peripheral' staff – who also appear to have some of the best interpersonal skills I have experienced in the NHS!
My asthma will not magically disappear but whilst under the care of Royal Brompton, neither will the opportunity to have a good quality of life whilst experiencing such a chronic, debilitating disease.