A patient's view: A return to fitness
Retired nurse Jenny Gane has been given a new lease of life after attending the pulmonary rehabilitation programme at Harefield Hospital. Jenny had been suffering from increasing breathlessness for 18 months before eventually being diagnosed with idiopathic pulmonary fibrosis after being referred to Harefield.
Jenny says: "I was initially treated for asthma by my GP, but despite my medication being increased, I was not improving. I had always kept reasonably fit and couldn't understand why I had got to the stage where I had to stop and rest after climbing a flight of stairs and became breathless when eating and talking.
"This was causing me daily difficulties, not least as my job as chairwoman of the Rickmansworth University of the Third Age involves speaking to a hall full of people."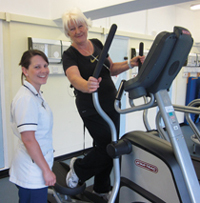 At this time, Jenny was a regular visitor to her GP surgery and on one occasion had a pulse rate of more than 100. She was referred to the cardiac unit at Harefield where it was discovered that her heart was in excellent condition. However, she had an abnormal chest X-ray.
Jenny says: "I was referred to respiratory medicine where my condition was diagnosed. My initial reaction was shock, as the ramifications of the problem were explained and I discovered that there is no treatment for idiopathic pulmonary fibrosis until it becomes severe enough to need steroids.
"I was angry that I had ended up with a chronic condition when I had always made an effort to keep healthy, but I also had a sense of relief that an explanation had been found for my symptoms."
Jenny was offered an intensive course of pulmonary rehabilitation at Harefield and hasn't looked back.
She says: "After a pre-course assessment I was given a personalised training programme including weights, resistance exercises and aerobic work. There was also a home exercise programme to follow for non-gym days.
"I started out on the treadmill for five minutes and was taught to monitor my level of breathlessness, watched over closely by the rehab team. I then went on the cross trainer and lasted only 30 seconds before I felt I was having a near-death experience!
"With support from the physiotherapists, I was taught to exercise using oxygen to help me breathe and managed to gradually build up the amount of time I could spend exercising and improve my recovery time. After the eight-week course, I continued the programme at my local gym and have built up to 10 minutes on my nemesis – the cross trainer. I can now go about my daily life without worrying about getting out of breath and have not been to see my GP for 18 months." 
Karen Ingram, lead physiotherapist for the pulmonary rehabilitation service, says: "When I first met Jenny she was struggling with her diagnosis. It had affected her confidence and it was hard for her to accept that her life may have to go down a different path. Tests showed that her lungs were not taking in enough oxygen to enable her to exercise for long, so we attached oxygen using nasal prongs to help her. This meant that she was able to gradually build up her fitness without straining her heart. Jenny was very receptive to the course and made great progress."
Jenny adds: "There is absolutely no way that I could have achieved my current level of fitness without the pulmonary rehab programme and the support and encouragement of the physiotherapists at the unit. They advised and motivated me every step of the way."