A patient's view: Familiar faces for worrying times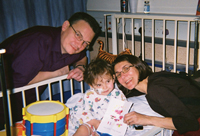 Despite being only three years old, Alexander Ellis has spent almost a year of his life in hospital.
Alexander's condition was diagnosed before he was born, during the routine 20-week scan. The sonographer at St George's Hospital in Tooting, London, contacted consultant foetal cardiologist, Dr Julene Carvalho, at Royal Brompton, who went to the hospital to give a fuller diagnosis and prognosis of the baby's rare congenital heart condition.
Alexander's parents, Charlotte and Tim, then visited Royal Brompton's paediatric intensive care unit (PICU) where the newborn would be transferred immediately after birth.
Charlotte says: "It was a very emotional and purposeful visit; seeing and speaking to parents and specialist nurses caring for children with similar complex heart conditions. Everyone was extremely supportive at a time when we most needed reassurance." 
Smooth transfer to Royal Brompton
While Charlotte waited to be discharged after giving birth, Alexander and his father, along with a team of highly specialised and well-equipped medics and support staff, travelled to Royal Brompton where they were greeted by Dr Carvalho and her team.
"I arrived at PICU later that day and was overwhelmed with the care and support shown by the doctors and nurses. Accommodation was promptly provided and the midwives from adjoining Chelsea & Westminster Hospital ensured my own medical needs were met," says Charlotte. "The links Royal Brompton has with other hospitals like St George's and Chelsea & Westminster are excellent."
Although a heart operation was earmarked for Alexander, the team agreed he needed surgery for a more immediate gastric issue first. This took place on day two and the heart surgery on day five of Alexander's life.
"Our cardiac surgeon, Mr Hideki Uemura, was superb. He specialises in small babies with challenging cardiac conditions. He was simply brilliant and gave us the time we needed to understand the surgery, drawing the structure of the heart and explaining the proposed procedure and alternative options in detail," explains Charlotte.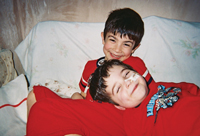 Impressive continuity of care
Mr Uemura also carried out further corrective surgery just before Alexander's second birthday, and he will carry out stage two once Alexander is four.
Alexander has now had six major surgical procedures requiring time in Royal Brompton's PICU and numerous ancillary procedures.
"On each admission, staff greet us with such warmth and recognition," Charlotte says. "From Dr Carvalho doing regular scans and always giving support, and the dedication of Alexander's cardiac consultant, Dr Piers Daubeney, to the PICU staff, playroom staff, milk nurses, doctors, cleaners, everyone – they are all familiar faces offering reassurance at worrying times. It's like a home from home and this is something that can't easily be recreated in a large, multidisciplinary hospital. The continuity of care is excellent."