"For the first time, I felt I was being listened to"
In 1991, David Southall from Chelmsford in Essex was involved in a motorbike accident that left him with punctured lungs and several broken ribs. He spent three months recovering in hospital and experienced breathing problems due to scarring of his lung tissue.
Once the scars had healed his breathing problems decreased, but during the following years, he started to struggle again. His doctor diagnosed asthma and prescribed inhalers, but his condition did not improve.
"I told my GP that I didn't think I had asthma. My lungs always sounded healthy when doctors listened to them with a stethoscope and my peak flow readings didn't improve after taking inhalers, which suggested I didn't have asthma.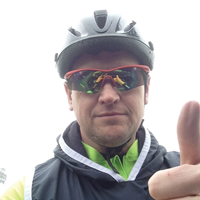 "Then I was told that my problems were still down to the impact of the accident on my lungs, and was told to try breathing exercises. But nothing helped and as the years went on my breathing deteriorated even more. I sounded like Darth Vader with my raspy breathing. There was no respite – it was always bad.
"Finally I'd had enough. I saw my doctor again, he said there was nothing more he could do for me and referred me to Royal Brompton."
In January, David attended the unexplained breathlessness service at Royal Brompton Hospital, under the care of consultant physician, Dr James Hull.
"For the first time, I felt I was being listened to. Dr Hull asked about my symptoms and then I had many tests during a six-day stay, including sleep and fitness tests. When the doctors tried to put a tube with a camera on the end into my lungs, the tube wouldn't go further than my throat. So I had an endoscopy, where the tube went down my nose instead.
"The team spotted the problem on the monitor straight away – an area at the top of my windpipe, close to my voice box, was very narrow and meant I was breathing through a very small area. I was told that this uncommon condition, glottis stenosis, was to blame for my breathing difficulties and wheezing.
"I had spent more than 15 years struggling with breathing. All it took was one specialist consultant to do an endoscopy and identify the problem. I can't tell you the jubilation I felt at that point, knowing that it would be sorted out.
"Dr Hull thought the narrowing was due to being intubated when I was in intensive care after my accident. He said the breathing tube may have ruptured the top of my windpipe when it was put in or taken out, and over time it got worse."
Consultant ENT surgeon Mr Guri Sandhu, part of a multi-disciplinary team at Royal Brompton that investigates patients with complex narrowed airways, carried out a 20-minute procedure at Charing Cross Hospital to laser the blockage away. He then used a special balloon to inflate David's narrowed airway.
"I was quite emotional when I took my first breath after waking up because I felt normal for the first time since before my accident. I had no whistle or wheeze. The first night after the procedure, my other half had to check I was still alive because she couldn't hear me snoring or wheezing.
"My breathing has been phenomenal since. Two weeks after leaving the hospital I completed a half marathon, and earlier this summer I did a 62-mile bike ride for charity without stopping. I've recently signed up to do the Three Peaks Challenge. I could never have dreamed of doing those things before my treatment – it's given me my life back.
"I have check-ups at Royal Brompton every six months and my lung function had increased by 70 percent at my last appointment.
"The care here has been second to none. Dr Hull has explained every stage and process, as have the nurses, the ward sister and other doctors. Everyone has been so friendly and welcoming.
"I'm so thankful for everything that the team has done for me. If I'd paid money for the experience I would have come away thinking it was worth every penny."