A patient's view: Innovation improves Barbara's life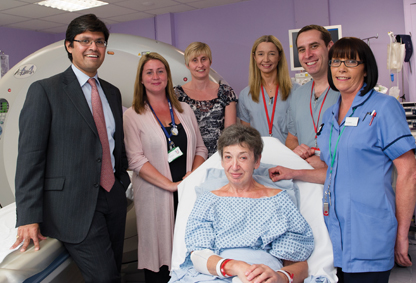 Since undergoing radiofrequency ablation treatment at Harefield Hospital, Barbara Copland says that she is getting her old life back. 
Barbara was diagnosed with secondary tumours in her lungs following breast cancer 10 years ago. Chemotherapy had not made a significant impact so she was referred to Dr Paras Dalal at Harefield to be considered for radiofrequency ablation.
Barbara said: "It was a huge shock to me that the cancer had returned after so long. I had been suffering from breathlessness and diagnosed as asthmatic.
"Despite being treated with four different chemotherapy drugs, the nodules on my lungs were not responding. I was also suffering from many of the unpleasant side effects associated with the drugs, including nausea, hair loss, stomach cramps and cold sores. I also felt extremely tired all the time and this was affecting my quality of life."
Following assessment, Barbara was offered radiofrequency ablation at Harefield. She said: "I felt that radiofrequency ablation was a good option for me and I was reassured by Harefield's reputation in this specialist area and the good success rates achieved for the treatment.
"The whole team involved in my care – from the nurses to the anaesthetist, doctors and support staff – were fantastic. They were extremely empathetic and explained everything to me in great detail."
In June this year, Barbara had radiofrequency ablation treatment for two nodules in her left upper lobe and three in her right lower lobe in two separate procedures.
She remembers: "The staff couldn't do enough for me during both my short stays in hospital and ensured that I was as comfortable as possible and recovering well.
"A clinical nurse specialist has been available to answer any questions by phone in between appointments and that is very reassuring."
Barbara had lost confidence before the treatment as she had not felt well enough to travel far from home, but she is now getting her life back on track.
She said: "I am working part-time as an advisor for the Citizens Advice Bureau and look forward to being able to travel from my home in Northwood up to London to attend art exhibitions.
"My recovery has been much better following the radiofrequency ablation than when I underwent chemotherapy. I am feeling positive about the future."
Clinical nurse specialist, Julia Beeson, was one of the team members who treated Barbara. She said: "As with Barbara, all the patients that we have treated at the centre have benefited significantly from the therapy and found that their quality of life has improved."