A hidden disability may be difficult for others to recognise or understand but can make daily life more challenging for those who have one. A hidden disability can include: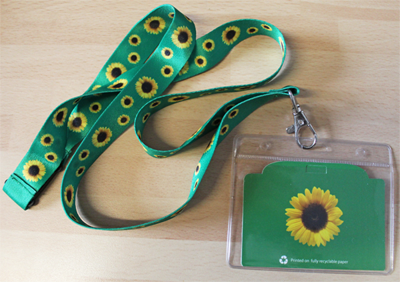 sensory loss, including difficulty seeing or hearing
a physical disability that may not be obvious
autism
a learning disability
dementia including alzheimer's disease
anxiety or any other mental health condition. 
Wearing a sunflower lanyard
Not all people with hidden disabilities need assistance. However, if you do, wearing a sunflower lanyard discreetly indicates to our staff that help may be needed. A sunflower lanyard encourages: 
you to ask for extra support (although you don't have to be wearing your lanyard to ask for this)
you to use the lanyard to tell people about the type of assistance you need. For example, if you need some more time to understand something
our staff to approach you and ask if there is anything you need help with
you to let us know if you need help getting to your appointment and require a porter when you get to the hospital. 
You can also complete the card that comes with the lanyard which will help others to understand your needs. If you unable to talk to one of our staff members, writing down the type of help you will need and handing it to our staff will help us to support you. 
Your sunflower lanyard is yours to keep and you are most welcome to wear it every time you are in our care. 
How to get a sunflower lanyard
Sunflower lanyards are available to collect from both our hospitals. You do not have to meet certain criteria to access a lanyard and we do not exclude people who have yet to be diagnosed. 
Royal Brompton Hospital
main reception at Fulham Road
main reception at Sydney Street
paediatric outpatients 
rose ward (paediatrics) reception desk. 
Harefield Hospital
main reception
paediatric outpatients (seedlings). 
Ordering online
If you would like to order a sunflower or wristband before attending the hospital, or rather than collecting one upon arrival, please purchase one from the hidden disabilities store. 
Parents or carers
If you are a parent or carer of a child with a hidden disability or additional needs, size appropriate silicone wrist bands are available alongside the lanyards. For more information, please email Katharine Scott, lead for older people and physical disabilities.