What was your career background before joining RB&HH?
I've always been curious about human beings, the way we think, behave and express emotion – particularly when we are unwell. Naturally, this led to a career in psychology, and a road to qualification as a Clinical Psychologist.
My early career started in paediatric psychology, and children and family mental health – supporting those whose physical health had such a ripple effect in their lives. I moved into the adult health arena at RBHH in 2017, after having two children of my own. Working in critical and cardiothoracic care alongside amazing multi-professional teams was a pleasure. It was a natural next step to take on my current role as Staff Psychology lead for the Heart, Lung and Critical Care Clinical Group. If we support our staff well, our patient care remains world-class!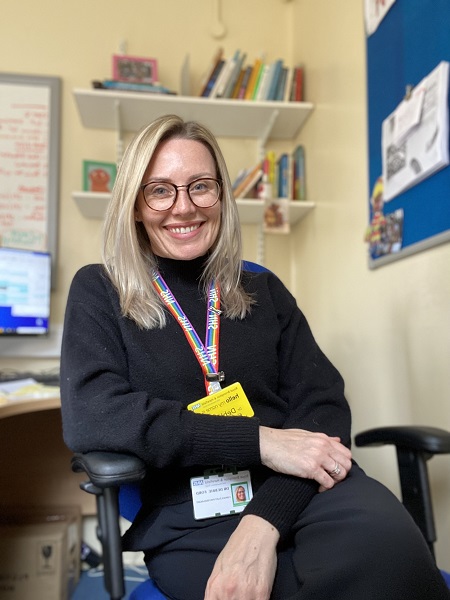 Can you describe what you do day-to-day?
As I work across sites, my week is varied, and I like to ensure all staff know we are visible and present to support their needs. I spend most days checking in with our site-based teams, working on strategic projects and ensuring we meet the demand placed on our service. I also remain clinical, and throughout the week, support various individuals and teams who work within the trust. Our service mustn't become disconnected from day-to-day clinical pressures, so we enjoy walking around the wards and offices to ensure all our teams know how important they are.
What do you enjoy most about your job?
I feel very passionately about staff support and how we have a responsibility to care for those who give so much in the NHS. I love that we can make a difference in how staff cope with their work, particularly in challenging times, and support their motivation, goals, and drive to be the best they can be for their patients. It's such a privilege.
What have been some of the highlights in your role to date?
It has been a real highlight to gather and receive feedback on the experience of our service in its first year and hear what a difference the team are making in our staff's lives. I am proud to lead a service with compassionate team members who sit alongside people in their darkest moments while championing daily diversity, equality, and inclusion.
Which part of your job is most challenging?
The reality of NHS pressures, both through COVID and day-to-day, makes well-being a dirty word at times. We have to acknowledge that these pressures will not go away, and we cannot fix that, but we can help alongside them.
What is the best thing a patient has ever said to you?
When our staff tell us they no longer feel alone and like they are the only ones struggling. When they tell us that they feel safe to share and open up – that is powerful.
Why did you decide to work in healthcare?
I love the NHS and all it stands for. To work in a health service that provides care for all makes me very proud. To make a small difference in a person's life story is so meaningful. I have such a huge memory bank of patient moments that will forever stay with me, and I have enormous gratitude for that.
What advice would you give to people considering a similar career path to yours?
Psychologists are one brand of helping profession. There are many paths to travel if an NHS career is of interest. My advice would be to explore widely and get good support for yourself on whichever path you choose. I love being a psychologist, but I am a bit biased!