Can you describe what you do day-to-day?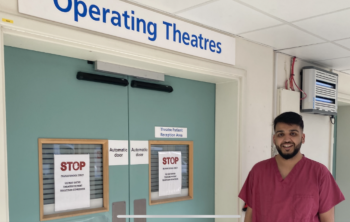 My role is all about patient care and safety before, during and after surgery; I help to anesthetise patients for cardiac and thoracic operations, I prepare and check the anaesthetic machine, the airway trolley, and the drugs, and I assist with the insertion of catheters (thin tubes inserted into the main blood vessels to deliver medication). This must all be done while maintaining high infection-control standards.
What do you like most about your job?
Learning about new things each day. I also enjoy the job satisfaction, knowing that I have assisted in making patients' lives better.
Which part of your job is most challenging?
Due to the nature of the work we do, we see patients at their most vulnerable, right before they have their procedure. When I reflect on it, this is such a precious and humbling experience.
What is the best/funniest thing a patient has ever said to you?
"Thank you for taking care of me, you guys are superheroes."
Why did you decide to work in healthcare?
For the job satisfaction – going home at the end of each day knowing that you have made a huge difference in someone's life.