Tell us about your team. What do they do?
We have a very large team based at Royal Brompton Hospital of over 70 full time and part time staff. Without each and every one of them, we would all be very hungry!
The team is made up of catering assistants who serve food on the wards; retail assistants for our restaurant and coffee shops; several chefs that prepare fresh food for patients and staff daily; kitchen porters that ensure the kitchen is always clean; general catering supervisors and admin staff. 
Additionally, we work with colleagues who deliver services to our private patients and visitors.
What do you like most about working with your team?
Our team is very diverse and everyone has such a passion for food. I am blessed to work with some really fantastic people from all over the world and they all have such a "can do" attitude.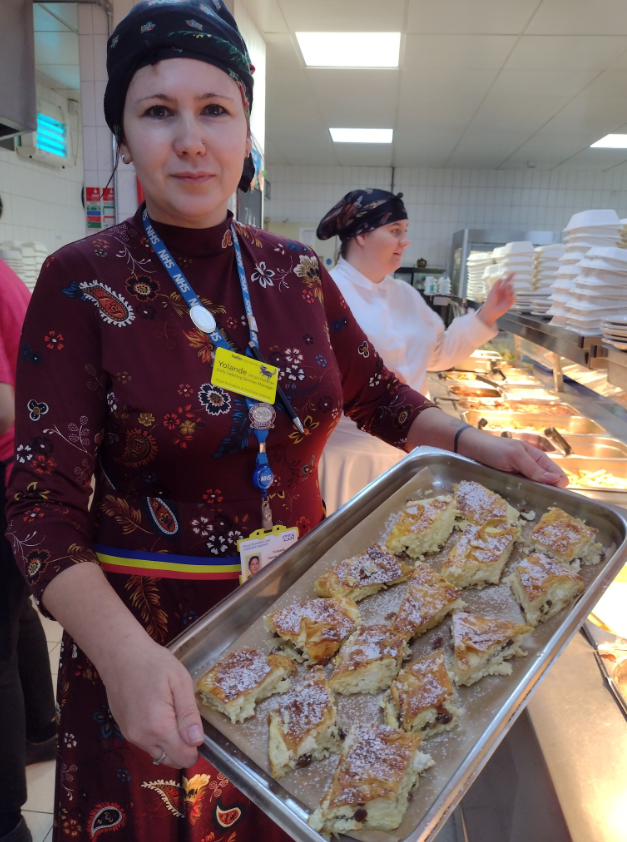 Why is food so important at Royal Brompton Hospital?
Food is part of the healing process. If patients consume decent nutritious meals, their recovery progresses faster and the length of their hospital admission time is reduced.
We always say to our staff that we should treat patients the way you would wish your mother or father to be treated in hospital. I am happy to say that if my mother was a patient here, I would be happy with the meals and services she would be offered. 
We are very proud of the fact that we serve fresh cooked food to our patients and staff, which means the food retains a better consistency and doesn't lose any nutrition through being processed.
Your team makes dishes from around the world. Why is it important to celebrate different cuisines and cultures through food?
We like to celebrate the staff in the hospital including those in our team. During Black History Month, two of the catering assistants worked in the kitchen with the chefs to show them how to prepare dishes from their native Somalia, which we then offered in the restaurant. We also have a Romanian chef and supervisor who introduced us to traditional food from their country. Again, we were able to offer this to customers in the restaurant. 
We all enjoy sampling food from different countries. For me personally, it's a bit of an education and I love learning about the different cuisines from around the world. 
 What do patients and staff tell you about the food?
In general our feedback is exceptionally positive. We do patient surveys on a weekly basis and patients often comment that they did not expect this kind of quality from an NHS hospital. It is our aim to change the way people perceive hospital food. 
We are also lucky that our dietetic and speech and language teams are great sources of patient feedback and will regularly send us feedback that patients have relayed to them. I work very closely with our dieticians and speech and language therapists to understand some of the medical needs we need to cater for as a department.  
We really like it when customers give us feedback and we often take staff meal suggestions on-board. The Greek gyros that we serve in the Brompton Café were from a staff suggestion and proved to be very popular.
Are there any memorable stories or moments you've had with patients?
My favourite interactions are when people tell me they eat better here than at home or ask for certain recipes so they can cook them at home. It's also always delightful when we meet some of our  former patients in the restaurant when they come for outpatients appointments and they buy lunch because they enjoyed the food so much from when they were inpatients.  
What would someone who knows nothing about your job find most surprising about what you do?
There is a lot of research that goes into my job. Putting together patient menus that cover as many nutritional and cultural needs as possible and then working with the chefs to adapt recipes to be more suitable for hospital patients. 
What has been your proudest or favourite moment from working at Royal Brompton Hospital?
Meeting King Charles and showing him around our kitchen was a wonderful experience. We have also been nominated and short listed for several awards, and we have recently been awarded the "The Public Sector Catering award" which I'm very proud of. We were also awarded our "Food for Life Silver award" in the beginning of 2023 which recognises the work we do by supporting local suppliers, buying only Red Tractor meat and using free range eggs.
From an environmental perspective, we have drastically reduced our single-use plastic in the department which helps us to cut down on the non-recyclable waste which eventually ends up in landfill.
What is one of your favourite dishes from the Royal Brompton restaurant?
I have a few but my favourites are always the dishes with more kick in. Spicy spinach and fish stew is very good. Our chefs make a really mean lasagne too. I try not to indulge too often but the fruit crumbles and bread and butter puddings are often a bit hard to refuse!