We are a team of experienced doctors and nurses who specialise in the care of babies with heart conditions, before and after they're born.
The fetal cardiology service is based at Royal Brompton and Harefield hospitals, and specialist clinics in other fetal medicine units in London, including Chelsea and Westminster, Queen Charlotte's and Chelsea, and St George's hospitals.
What to expect
Our job is to provide information and advice on the treatment options you have if your unborn baby is diagnosed with a heart condition. We do this by performing scans which can tell us more.
---
Your baby's heart scan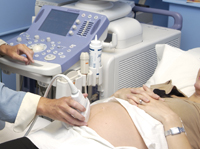 Fetal cardiology scans can be performed as early as 13-14 weeks into your pregnancy, although in most cases they are done at 18-23 weeks.
Similar to the routine scans you'll already have been having throughout your pregnancy, this scan allows a fetal cardiologist to concentrate on your baby's heart. By using ultrasound to take pictures of their heart, we can also see how the heart is developing and how the blood is flowing around it. In many cases this confirms that the heart has developed normally.
Fetal heart scanning can detect most structural abnormalities of cardiac function, and disturbances in the rhythm of the heart. Unfortunately, some abnormalities cannot be diagnosed or detected and may only become evident after birth.  
Scans cannot help us diagnose:
patent ductus arteriosus (PDA) - a vessel present in all babies before birth
atrial septal defect (ASD) - present in all babies before birth
A scan will not show us
valve abnormalities
small ventricular septal defects (VSD)
anomalous return of the pulmonary veins
---
After your scan
As soon as your scan is finished, we will explain the results to you. If there is a problem, we'll explain all the options available, and whether your baby is likely to need medical or surgical treatment after birth.
One out of every ten babies with a heart condition will have problems with other organs, or with genes that are responsible for the development of these organs (a genetic problem). If we think is the case with your baby, we'll offer advice and counselling, and if appropriate refer you to a specialist obstetrician for further scans or tests such as amniocentesis.
If you would like a second opinion regarding the heart condition we can arrange this.
Ongoing care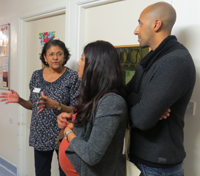 If your baby is diagnosed with a cardiac condition, we will offer you follow-up scans so we can monitor the condition of their heart.
Your local obstetrician, GP and midwife will receive a copy of your scan report, and our fetal cardiology consultant and clinical nurse specialist will stay in touch with them so they can be involved in your ongoing care and delivery plans.
The best place for you to deliver your baby is something we'll discuss with you - it could be at your local hospital, or a maternity unit closer to the Royal Brompton Hospital so your baby can be transferred to us soon after birth.
When your baby is born
Not all babies require treatment immediately after birth. Some babies may need to come to the Royal Brompton for a heart scan before leaving the maternity unit to go home, others may need outpatient appointments with us so we can monitor their heart condition.
Once your baby is born, their care will be transferred from the fetal team to our paediatric cardiology team. If your baby requires treatment at the Royal Brompton Hospital immediately after birth, you'll be able to come and stay as soon as you're discharged from the maternity unit.
If your baby doesn't need surgery immediately after birth, our clinical nurse specialist can arrange for you to visit the Royal Brompton hospital. You might do this on your own or as part of our antenatal group sessions which are held once a month on a Saturday. At this visit, we'll be able to tell you about the facilities available to you and help to familiarise you with the ward/intensive care units where your baby will stay before and after surgery. We can also:
arrange for you to meet one of our paediatric cardiac surgeons or other members of our team to get further advice
put you in touch with other parents with similar experiences to yours
introduce you to our charitable organisation, the Brompton Fountain, for all-round support
Whether surgery is needed immediately or not, we will arrange for a community midwife to follow up your postnatal care.
The fetal cardiology service is a team of experienced doctors and nurses who specialise in the care of babies with heart conditions –  before and after they are born.
Fetal cardiology team
The team who will look after you and your baby include:
Fetal cardiology consultants
Fetal cardiology locum consultants
Dr Laura Vasquez-Garcia

Dr Ilaria Bo
Paediatric Cardiac Sonographer:
Fetal cardiology clinical nurse specialists
Sophie Dopson

Daifenir Rodriguez

Alice Ciovina

Olivia Nunn

Elena Karagodova
Further help and advice
We know that this can be a worrying time for you and want to give you as much information and support as you need, both before and after you baby is born.
We can put you in touch with appropriate support organisations.
For further information you can contact our nurse specialists at fetalCNSteam@rbht.nhs.uk.
For referral information please email rbh-tr.bromptonfetalcentre@nhs.net.