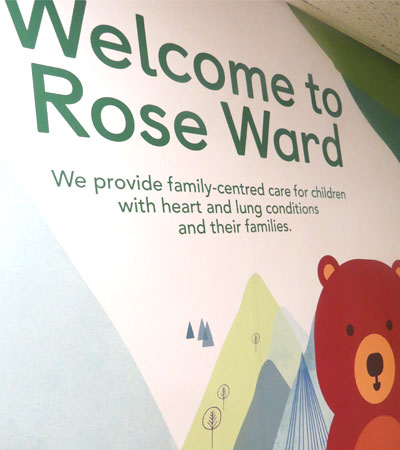 Rose ward at Royal Brompton Hospital is a busy, happy place where your child's health is a priority. We specialise in caring for babies and children up to the age of 16, whose heart and lung problems may need medical treatment or surgery.  
On Rose ward, there is real focus on regular monitoring, medicines and care, but the ward nurses are also there to work with you, as a parent, to give the right care and support your child needs. As your child improves, we will support you to take on care and medication as your child reaches the stage of being discharged to either home, or a hospital nearer to where you live. 
---
Arriving for your stay
When you come to Rose ward, please report to the nurses' station. Your child's bed will normally be ready, but if it isn't, there's a waiting room and playroom where you can wait. 
When your child's bed is ready a nurse will have a chat with you about your child's stay: what the stay involves as well as admission paperwork. 
The medical team
Throughout their stay, your child's consultant will lead their care alongside the medical team, including a senior nurse who leads a large team of nurses. Many of our nurses are specifically trained in children's care and have specialisms in caring for children with heart and lung problems. 
Our other specialists, include: cardiac and respiratory specialist nurses, psychologists,  physiotherapists, hospital play-specialists, cardiac liaison nurses, occupational therapists and family liaison managers who also assist and advise on your children's management and care.
Dietitians also visit the ward daily from Monday to Friday. If they are concerned about your child's growth or weight gain, they can provide advice to help. Dietitians work closely with speech and language therapists and sometimes clinical psychologists if there are more complex issues preventing your child from eating, drinking, or growing appropriately.
Step-up and step-down care
If your child needs more medical care, we can quickly recognise if they need to move into a high dependency or intensive care unit for safety. This is what we call 'step-up' of care. As your child improves and needs less frequent medical attention, we will assess if your child is well enough to move to either high dependency or Rose ward. This will be a bit of a change at first, especially if you have been used to having a nurse at the bedside at all times, but it means your child is getting better and you can become more involved in their care. We call this move, 'step-down' of care. 
Visiting
You may stay with your child for as long as you want to although we need to ask you to limit the number of other visitors. Only two people are allowed by the bedside at any time. This is because too many people around a bed at one time can make it difficult for us to nurse your child or the other children close by.
Parents have 24-hour access to the ward. Extended family, including children and supporting adults, can stay between 12 pm and 6 pm every day.
Children can use the playroom but we do ask that an adult supervises them.
Anyone who has an infection (such as a cold, sore throat or tummy bug) should not visit the ward (please check with a member of staff if you are unsure).
As children recovering from procedures require their rest, we aim to switch off televisions/videos in the bays by 9 pm.
Hot drinks are allowed on the ward but they must have a secure lid.
There is a 'swipe card' security system for entering Rose ward and cards are available for parents.
Staying overnight
We believe that children respond best if all their needs are met, so we welcome parents and families staying with their child and joining them on the ward when they want to. As well as making younger patients feel more secure in their new surroundings it means that you, as a parent, can be involved in their treatment at all stages. The ward is bright, friendly and welcoming to children and their families. 
On Rose ward, it is possible for one parent to sleep on a fold-up bed next to their child as long as this does not affect the care the nurses need to give.
Rooms for parents are available on level 6, Sydney Wing and in South Parade, Fulham Road Wing.  Unfortunately, brothers and sisters are not able to stay in the facilities on level 6 due to health and safety regulations. 
Mealtimes for children
Breakfast: 8:30am to 9:30am (served at bays)
Lunch: 12:30pm to 1:30pm (served from playroom)
Tea: 5:00pm to 6:00pm (served from playroom).
Read more about our cafe and restaurant facilities for families and visitors.
Education and play
As well as children's medical needs, we make sure their education and development is a priority.  A primary and secondary school service enables your child to keep up to date with his or her schooling while in hospital. The hospital teachers will liaise with your child's homeschool teachers to allow them continuity in their schooling. 
Read more about our school facilities
Play is also an important aspect of our approach. The ward has a large well-equipped playroom, which is run by qualified hospital play specialists. In addition to keeping the children occupied, these staff members will also help ensure that the children are fully prepared for their experiences in hospital.
We also recognise the needs of our patients' families: catering facilities, quiet rooms and overnight accommodation, including family rooms and self-contained flats are all provided, although limited. 
Contacting us from home
If you are concerned about your child before or after surgery, please call the cardiac or respiratory specialist nurses between the hours of 9 am to 5 pm.   
Cardiac specialist - 020 7349 7727
Respiratory specialist - 020 7351 8714
Outside those hours, please call your GP or go to your local accident and emergency department.
Further information
We have a number of leaflets available for download with helpful information about many of the tests, services and treatments we offer. Find the specific condition, test or treatment for your child and the related leaflet will be available on that page. 
---
Contact
Level 4, Syndey Wing, Royal Brompton Hospital, SW3 6NP
Matron: Lauren McCann 
Telephone: 020 7351 8588
Beds: There are 27 ward beds, four high-dependency beds, and four beds in the sleep and ventilation centre.