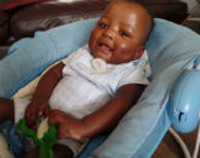 Ruth was horrified when her waters broke in April 2014 when she was only 24 weeks pregnant. Her first child had been four weeks premature but she never expected that her second child would come so early. She was taken to Queen Charlotte's Hospital in London and had her son Junior five days later. 
Ruth, who lives with her husband Ronald and their daughter Roya, recalls: "Junior was put onto a ventilator (breathing machine) as soon as he was born and 24 hours after his birth his right lung started collapsing. His lung collapsed every day for the next five days and he needed three chest drains. Doctors said he wasn't breathing well because he was born so early.
"It was a very scary time – I wouldn't wish that experience on anyone."
Junior's breathing improved with steroids and other medications, but he was still connected to the ventilator via a tube in his throat and his vocal cords had swollen, which meant he couldn't breathe by himself. 
Clinicians told Ruth and Ronald that he would need a tracheostomy, a surgical procedure to create an opening in the neck at the front of the windpipe (trachea). A tube is inserted into the opening and connected to an oxygen supply and ventilator to assist with breathing. 
Junior was taken to Chelsea and Westminster Hospital to have the procedure in August. Two days later Ruth and Ronald were visited by Royal Brompton's long-term ventilation (LTV) team for advice. They met Ruth Wakeman, advanced practitioner in children's LTV, and Jo Keating, physiotherapist for LTV.
Ruth says: "Ruth and Jo explained that Junior would need to be on ventilation for a long time because his lungs were in such a poor condition. They said he needed to grow and gain weight so he would be well enough to leave hospital and use a ventilator at home."
Junior was taken back to Queen Charlotte's until the end of September and during this time Ruth started learning how to care for Junior's tracheostomy and how to use the ventilator. Then Junior was transferred to the family's local hospital so he could be closer to the family home. 
A setback
Unfortunately while there, Junior suffered a number of chest infections. The LTV team visited Junior, alongside Professor Andrew Bush, paediatric respirologist at Royal Brompton Hospital, and it was decided that he needed further tests to find out the cause.
Ruth explains: "Junior was transferred to Royal Brompton in mid-October and he received all the right tests and got stronger and stronger. The team established him on solids and he started to use nebulisers twice a day, which killed any bacteria."
In the meantime, Ruth, Ronald and Ruth's sister completed their tracheostomy training with the LTV team. 
Ruth says: "We were taught how to change the tracheostomy ties, how to look after a stoma (the opening in his neck), signs to indicate that Junior was getting ill, physiotherapy training and how to give Junior his nebulisers. We were trained on how to use the home ventilator and were given basic resuscitation training. We went through all aspects of his care to prepare us for him coming home."
The LTV team also conducted a thorough assessment of Ruth and Ronald's home, with the community team, to determine any changes they needed to make before Junior came home.  He would also need someone with him at all times to make sure he was breathing, so the LTV and community teams worked closely to arrange carers to support the family.
Home for Christmas
Ruth and Ronald desperately wanted Junior to be home in time for his first Christmas, so the LTV team helped them to complete a number of forms and obtain the equipment he needed.
Ruth says: "The time since Junior's birth was very difficult for me, especially because my daughter was also so small. My mum came over from Grenada to help us look after her because we were in hospital with Junior so much of the time. It was very important to me to have Junior home for Christmas, and his sister was desperate for him to come home too."
The family was overjoyed when Junior came home on December 22, just in time for Christmas. Ruth recalls: "It was a smooth process and I know I would have been much more stressed without the LTV team's help.
"It's been lovely to have him home. It's important for him to see his whole family and to not only be surrounded by a clinical environment. 
"Since he's been home he's continued to improve. He's been weaned off his ventilation completely now and is breathing quite well by himself. He's got used to being taken out and about and he plays, interacts and tries to talk. He knows that he's at home."
Ongoing care
Junior, now 15 months, has regular sleep studies at Royal Brompton to monitor his progress and at the last one, his consultant said he could hopefully be decannulated (tracheostomy removed) in the near future.
Ruth says: "I'm hopeful for the future now. I don't know what I would have done without the LTV team – my experience would have been a different story without their input and suggestions.
"Any question I had or anything wasn't sure about, my first call was to the LTV team. They always listened to me and gave me reassurance about what to do. The service is amazing, the team is so efficient and they have a wealth of knowledge. They've really been there for my family at a time when we would have struggled to cope without them."