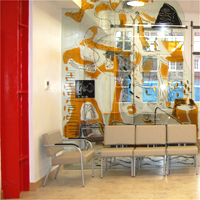 We have been diagnosing and treating adult patients with sleep disorders for over 20 years at Royal Brompton Hospital.  
Our service for sleep-related problems is one of the largest in Europe. 
Royal Brompton Hospital has an international reputation for its work with patients experiencing sleep disorders, and for its pioneering work in domiciliary ventilation (providing respiratory support at home). The centre is led by consultant in respiratory medicine, Professor Michael Polkey.
The Trust also has a children's sleep and ventilation unit for carrying out sleep studies for children.
What we do
Our specialist team cares for patients with problems related to: 
troublesome snoring

narcolepsy

restless leg syndrome

REM sleep behaviour disorder

idiopathic hypersomnia

parasomnias

circadian disorders

difficulties with going to sleep and staying asleep
Domiciliary ventilation is one of our major areas of respiratory work and we take referrals from across the UK, which makes our centre the largest sleep and ventilation service in Europe. 
Professor Michael Polkey, consultant in thoracic medicine, and his team provide home ventilation support for adults and children with neuromuscular and chest wall conditions, such as muscular dystrophy and curvature of the spine. There are more than 1,000 patients in this programme, making it the largest in Europe.
For adults and children with neuromuscular and chest wall conditions, the outlook was bleak until relatively recently. Non-invasive ventilation using small portable ventilators at night extends survival, reduces hospital admissions and improves quality of life.
Even in common disorders such as chronic obstructive pulmonary disease (COPD), non-invasive ventilation can be used to improve the outcome of acute infections. One of our patients is a travel writer who has travelled the length of India with his small portable ventilator; another has spent time studying mountain ranges and climatology in Ecuador.
Many muscular dystrophy and spinal muscular atrophy patients are students away at college. Several of our patients have recently had babies despite using ventilators at home – so much is possible! We are currently exploring new types of ventilators, which may be easier to use for patients with problems such as motor neurone disease.
Royal Brompton Hospital has an active programme of research into the treatment of respiratory problems in children and adults with progressive neuromuscular disorders, such as Duchenne muscular dystrophy.
Breathing problems in these patients first appear during sleep and patients often need non-invasive ventilation to support their breathing at night-time. In a recent study, Dr Simonds and her team investigated the best time to introduce nocturnal ventilation. They showed benefit in starting treatment before the disease has progressed to cause daytime breathing problems (when treatment is routinely started). This earlier use might also reduce hospital admissions for respiratory crises.
Why is it important to diagnose and treat sleep disorders? 
Sleep is vital to our health and quality of life, yet up to one in four people in the UK has a sleep disorder.  
For many, this means excessive tiredness during the day, which can affect concentration, work and family life. In others, sleep is simply unrefreshing.
Importantly, some disorders in which sleep is disrupted by breathing irregularities (apnoeas) are associated with an increased risk of heart disease and stroke, and affect work performance and memory.
Diagnosing sleep disorders
Sleep facilities in our centre for sleep are state-of-the-art and all studies are analysed by our highly experienced team. After an individual consultation, we offer a range of diagnostic studies including:
Respiratory sleep studies

Detailed polysomnography studies

Assessment of sleepiness (multiple sleep latency test, Osler wake test)

Sleep-wake activity levels (actigraphy)

Home studies
Treatment 
After diagnosis, we will suggest treatment that best suits the individual patient. This may include lifestyle changes, medication, or treatment with equipment such as continuous positive airway pressure (CPAP) therapy.
We work closely with colleagues (ear, nose and throat surgeons) to assess upper airway problems and how these can be resolved in patients who snore.
Read about diagnosing sleep disorders at the Royal Brompton Centre for Sleep.
Home non-invasive ventilation
The specialist facilities enable the team at Royal Brompton Centre for Sleep in diagnosing sleep disorders in patients with conditions such as chronic obstructive pulmonary diseases (COPD), cystic fibrosis, curvature of the spine and neuromuscular disorders (e.g. muscular dystrophy and motor neurone disease). 
Many patients with these conditions develop under-breathing during sleep, which is associated with high levels of carbon dioxide in the blood (nocturnal hypoventilation). Clinicians at Royal Brompton Hospital pioneered the use of non-invasive ventilation in adults and children with nocturnal hypoventilation. The hospital now cares for more than 1,600 adults and children using small portable ventilators at home.
This therapy has revolutionised the outcome in these conditions by considerably extending life expectancy and quality of life for these patients.
---
Sleep and Non-invasive Ventilation (NIV)
Royal Brompton Hospital

Harefield Hospital

Lead Consultant: Prof Michael Polkey

Sleep and Ventilation Consultant: Dr Matthew Hind

Sleep and Ventilation Consultant: Dr Alanna Hare

Sleep and Ventilation Consultant: Dr Shruthi Konda

Sleep Secretaries Contact:
Email: sleepsecretaries@rbht.nhs.uk

Telephone: 020 7352 8121 ext. 84704 / 87767

Lead Sleep and Ventilation Practitioner: Anna Hanak

Consultant Nurse: Debbie Field rbh-tr.svoutreachteam@nhs.net

Assistant General Manager, Respiratory Medicine and Thoracic Surgery: Fiona Casey

Deputy service Manager / Centre for Sleep Manager: Paulina Trunkwalter

Deputy service Manager / Patient Coordinator Manager: Karen Fahy

Deputy service Manager / Respiratory Bed Manager: Natasha Ahmed

Centre for Sleep Administration and Technical Support:

Contact Number 09:00-17:00, Monday to Friday 03301288880

For appointments, please email RSSAdmin@rbht.nhs.uk

For parts, please email spares@rbht.nhs.uk  

For technical queries, please email the Sleep Team on rss@rbht.nhs.uk

Lead Consultant: Dr Sundeep Kaul

Lead NIV consultant: Dr Amanda  Sathyapala (previously Natanek)

Respiratory nurse specialist: Sharyl James 

For sleep study tests or outpatient appointments email: apshh@rbht.nhs.uk

Telephone:  01895 828696

(Monday to Friday 8am to 4pm)

 

For NIV/Woodlands day case appointments queries email:  sleephh@rbht.nhs.uk

Telephone: 01895 826510

Lead Sleep and Ventilation Practitioner:  Amna Hoda

For Replacement parts and technical queries please email Sleep Services on 

Telephone: 01895 828 589

 

Medical Service Manager:  Katrina Mindel

 

For more information about the Sleep Clinic at Harefield Hospital, please visit this page.

 

Royal Brompton Hospital ventilation referral form (Word, 39KB)

Non-invasive ventilation (NIV) at Harefield referral form (PDF, 91KB)