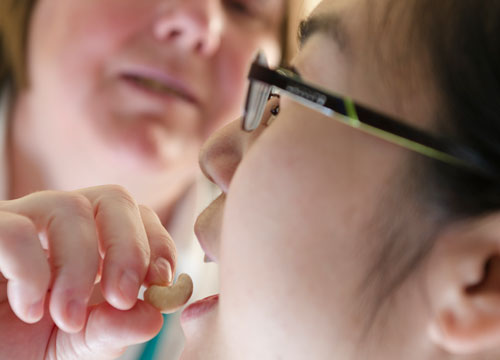 Our asthma and allergy team has a national and international reputation for excellence, groundbreaking research and developing asthma and allergy treatments. 
We provide an accessible local for asthma, allergy and occupational lung disorders, with an emphasis on accurate diagnosis, how to avoid such conditions, environmental control measures and - where appropriate - pharmacotherapy.
Our expertise
The asthma and allergy care group provides a range of different services in the following treatment areas:
Allergy
Asthma
Cough/upper airway
Occupational lung disease
If you have been referred to our asthma and allergy service, it is likely to be for an investigation into either severe or difficult-to-treat asthma. 
Many patients we see at our asthma clinic describe their symptoms as severe or hard to control. Sometimes, they find it difficult to describe their symptoms at all. This is why we often need to carry out detailed assessments so we can try to understand the cause of their symptoms and work out how best to treat them. 
Further information on our approach and the tests and treatments we offer can be found here. 
Meet the team
Consultants
Professor Fan Chung
Dr Johanna Feary 
Dr James Hull
Dr Pujan Patel (clinical lead)
Specialist nurses
Irene Berrar-Torre
Ella Campbell
Edel Lawless
Kena Simpson
Ilie-Narcis Statescu
Rachel Stead (lead nurse)
Clinical psychology service
Dr Victoria Singh 
Physiotherapists
Jacob Beard
Lizzie Grillo
Sita Kansagra
Speech and language therapist
Dr Julia Selby
Contact
If you have any questions, please contact the asthma nurse specialist team or the asthma secretaries:  

Telephone: 0330 128 8043   
Asthma nurse specialists: asthma@rbht.nhs.uk
Asthma secretaries: asthma.allergy.admin@rbht.nhs.uk
Royal Brompton Hospital
Sydney Street
London
SW3 6NP
United Kingdom
Switchboard
+44(0)207 352 8121
Led by Professor Stephen Durham, the allergy team diagnoses and manages all types of suspected allergic conditions, including:
allergic asthma
insect venom allergy
latex allergy
nasal polyps and other nasal allergic problems
Our services
These include:
general and specialist outpatient allergy clinics, including a nose clinic and food allergy clinic
access highly specialised blood tests, including individual allergen testing (molecular diagnosis)
immunotheraphy - a service for cat, house dustmite and grass pollen allergy
oral food challenges, to diagnosis of food allergy
drug challenges, including support for those who need immunisations
nasal studies, (includes the nasal challenge, flexible and rigid endoscopy, and diagnostic biopsy)
Once you have your diagnosis, we will offer you the best management options, tailored specifically to you. 
The allergy team is an experienced, multidisciplinary team of doctors, dietitians and a nurse, who have expertise covering specialities including, allergy, food allergy, ears, nose, throat (ENT), and gastroenterology. 
General allergies
If we suspect you have an allergic condition, you will be referred to our general clinic where you're likely to receive one, or more, of the following tests:
Our general clinics are run on Wednesdays. 
Nose, sinuses and upper airway allergies
If we suspect your allergy is related to your nose, sinuses or upper airway, you will probably receive one, or more, of the following tests:
nasal challenge
flexible and rigid endoscopy
skin prick 
sinus CT scanning
endoscopic sinus surgery and diagnostic biopsy (at Charing Cross Hospital)
Nose clinic
If you've been referred to us with rhinitis or rhinosinusitis,  our joint medical-surgical nose clinic has both allergy doctors and ENT (ear, nose and throat) surgeons from Charing Cross Hospital.
Your doctor will take a full history of the problem, and may also do some further test, including allergy skin prick tests, lung function testing and examination of the nose using an endoscope.
You may also have blood tests and a CT (computed tomography) scans of the sinuses. Some patients who suffer with this condition need surgery. If you do, the clinic will arrange an operation which takes place at Charing Cross Hospital in Hammersmith.
This clinic is run on Tuesday mornings. 
Food allergies
If we suspect your allergy is food related, you will probably receive one, or more, of the following tests:
skin prick
specific immunoglobulin E (IgE) testing
If your allergies are mainly gastrointestinal, we would do these tests and further specialist testing as required. 
Food allergy clinics are run by Dr Isabel Skypala (at Royal Brompton Hospital), Dr Alan Steel (consultant gastroenterologist at Chelsea and Westminster Hospital), and Dr Joanna Szram and Dr Isabel Skypala at Harefield Hospital. 
Allergy management
If you have a food allergy, we will give you written information and advice on how to manage it and what to take if you have a reaction. If we feel it is more likely your symptoms are caused by a food intolerance, we will provide you with some written dietary advice to avoid those foods or food components which we feel best fit with your symptom pattern.  
If you are a health professional and need referral information, find out more.