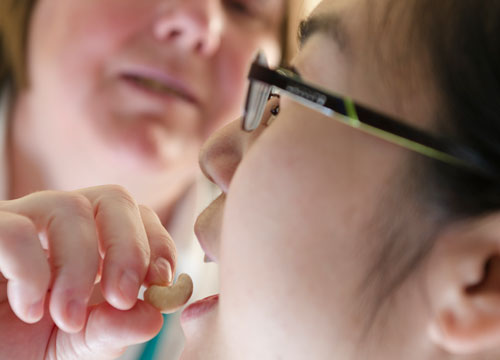 Our asthma and allergy team has a national and international reputation for excellence, groundbreaking research and developing asthma and allergy treatments. 
We provide an accessible local service for asthma, allergy and occupational lung disorders, with an emphasis on accurate diagnosis, how to avoid such conditions, environmental control measures and - where appropriate - pharmacotherapy.
Our expertise
The asthma and allergy care group provides a range of different services in the following treatment areas:
Allergy
Asthma
Cough/upper airway
Occupational lung disease
If you have been referred to our asthma and allergy service, it is likely to be for an investigation into either severe or difficult-to-treat asthma. 
Many patients we see at our asthma clinics describe their symptoms as severe or hard to control. Sometimes, they find it difficult to describe their symptoms at all. This is why we often ask patients to stay with us for a few days while we carry out a detailed assessment so we can try to understand the cause of their symptoms and work out how best to treat them. 
Before coming into hospital
If you take certain medication, it can sometimes affect test results or make them difficult to understand. This is why we ask you to try to avoid the following medications, if possible, before you come into hospital for any tests. If you use any of the following, please do not use them on the day you come in, unless absolutely necessary:
Inhalers
Symbicort
Seretide
Flutiform
Fostair
Qvar       
Oxis
Relvar
Spiriva
Tablets
Please do not take any of these on the evening before or the morning of your admission: 
Theophylline
Phyllocontin
Uniphyllin
Slophyllin
Antihistamines
Please do not take the following for three days before your admission into hospital:
Oloratidine (Clarityn)
Odesloratidine (Neoclarityn)
Ofexofenadine (Telfast)
Ochlorphenaramine (Piriton)
If you find it difficult to manage without your inhaler, you can use your bronchodilator (Ventolin, Salbutamol, Bricanyl). When you arrive for your tests, tell us if you have used it and at what time.
Continue taking all your other medication as usual. If you are taking Prednisolone (steroid tablets) as a regular medication, you must keep taking them.
Hospital admission
During your time in hospital, you will stay on Lind ward, which is in the Fulham Road wing of Royal Brompton Hospital. 
What you'll need
During your stay, you can wear your normal everyday clothes but you will also need to bring:
loose, lightweight clothes
comfortable shoes such as trainers in case you need to have an exercise test
toiletries (we will provide you with towels)
nightwear (pyjamas/nightdress, slippers, dressing gown)
all your current medication in their original containers. Also if you have an up-to-date list of your prescription medication, bring that as well.
books, magazines, laptops, mobile phone and chargers, if necessary.    
We have free wifi that you can access at the hospital.
Remember that it is your responsibility to keep your belongings safe. We can't accept liability for any loss or damage to your items during your stay.
Your tests
During your stay with us, we will carry out a range of tests on you. If you've had tests at other hospitals, we'll only repeat them if we really need to. 
You will get the results of your tests, and any changes to your treatment, before you go home. If you need any more tests after you go home, we'll discuss that with you. 
We carry out a range of tests but you may not need all of the following asthma tests:
Who'll look after you
Asthma specialist nurse
The asthma specialist nurse will go through your symptoms with you in details and talk to you about treatment.
Ear, nose and throat (ENT) review
People often have some inflammation in their nose without noticing any symptoms. Treating this inflammation can help improve asthma symptoms, so you may see a nose specialist during your assessment.
Physiotherapy review
All patients see a physiotherapist. They can help with a variety of problems, including:
breathlessness
issues with physical activity and exercise
difficulty with clearance of sputum (mucus, phlegm).
Speech and language therapist
If your upper airways (throat) is contributing to your symptoms, we may get a speech and language therapist to see you. They specialise in voice and throat symptoms.
Psychology review
If you need to, you can speak to our psychologist during your stay. Addressing your psychological wellbeing if you have chronic respiratory symptoms is important.
At the end of your stay
When you're ready to leave, your consultant will create a management plan for your asthma. They will also arrange any follow-up appointments you need.
Your follow-up is normally as an outpatient, but another inpatient stay can be arranged if you need it.
Find out more about asthma in children. 
Led by Professor Stephen Durham, the allergy team diagnoses and manages all types of suspected allergic conditions, including:
allergic asthma
insect venom allergy
latex allergy
nasal polyps and other nasal allergic problems
Our services
These include:
general and specialist outpatient allergy clinics, including a nose clinic and food allergy clinic
access highly specialised blood tests, including individual allergen testing (molecular diagnosis)
immunotheraphy - a service for cat, house dustmite and grass pollen allergy
oral food challenges, to diagnosis of food allergy
drug challenges, including support for those who need immunisations
nasal studies, (includes the nasal challenge, flexible and rigid endoscopy, and diagnostic biopsy)
Once you have your diagnosis, we will offer you the best management options, tailored specifically to you. 
The allergy team is an experienced, multidisciplinary team of doctors, dietitians and a nurse, who have expertise covering specialities including, allergy, food allergy, ears, nose, throat (ENT), and gastroenterology. 
General allergies
If we suspect you have an allergic condition, you will be referred to our general clinic where you're likely to receive one, or more, of the following tests:
Our general clinics are run on Wednesdays. 
Nose, sinuses and upper airway allergies
If we suspect your allergy is related to your nose, sinuses or upper airway, you will probably receive one, or more, of the following tests:
nasal challenge
flexible and rigid endoscopy
skin prick 
sinus CT scanning
endoscopic sinus surgery and diagnostic biopsy (at Charing Cross Hospital)
Nose clinic
If you've been referred to us with rhinitis or rhinosinusitis,  our joint medical-surgical nose clinic has both allergy doctors and ENT (ear, nose and throat) surgeons from Charing Cross Hospital.
Your doctor will take a full history of the problem, and may also do some further test, including allergy skin prick tests, lung function testing and examination of the nose using an endoscope.
You may also have blood tests and a CT (computed tomography) scans of the sinuses. Some patients who suffer with this condition need surgery. If you do, the clinic will arrange an operation which takes place at Charing Cross Hospital in Hammersmith.
This clinic is run on Tuesday mornings. 
Food allergies
If we suspect your allergy is food related, you will probably receive one, or more, of the following tests:
skin prick
specific immunoglobulin E (IgE) testing
If your allergies are mainly gastrointestinal, we would do these tests and further specialist testing as required. 
Food allergy clinics are run by Dr Isabel Skypala (at Royal Brompton Hospital), Dr Alan Steel (consultant gastroenterologist at Chelsea and Westminster Hospital), and Dr Joanna Szram and Dr Isabel Skypala at Harefield Hospital. 
Allergy management
If you have a food allergy, we will give you written information and advice on how to manage it and what to take if you have a reaction. If we feel it is more likely your symptoms are caused by a food intolerance, we will provide you with some written dietary advice to avoid those foods or food components which we feel best fit with your symptom pattern.  
If you are a health professional and need referral information, find out more.