The pulmonary hypertension (PH) service at Royal Brompton Hospital is run by the Royal Brompton pulmonary vascular unit. 
The service is one of seven centres that make up the UK's national pulmonary hypertension service.
The national pulmonary hypertension centres of the UK and Ireland, which include the above centres plus the Mater Misericordiae University Hospital in Dublin, produced the consensus statement on the management of pulmonary hypertension in clinical practice.
Pulmonary hypertension service at Royal Brompton Hospital
The multidisciplinary team provides care for patients with pulmonary hypertension which includes:
a full diagnostic investigation
inpatient and outpatient management of pulmonary hypertension long-term follow-up.
Patients are mainly from the south of England and Wales. However, as a tertiary centre for adult congenital heart disease (ACHD), the Trust also sees patients from all over the UK.
Shared care
We have developed a shared care service with:
St George's Hospital
Southampton General Hospital
The John Radcliffe Hospital in Oxford
Royal Berkshire Hospital, Reading
Milton Keynes Hospital
Surrey and Sussex Hospital (at Redhill)
St Richard's hospital in Chichester.
Consultants attend regular clinics with designated PH teams in these centres with multidisciplinary meetings held by video-link at Royal Brompton. This designated service is designed to help improve patient care through:
easy accessibility 
reduced travel time 
reduced need for an inpatient stay 
reduced delay in referral providing investigation 
earlier treatment.
Our commitment
We are committed to providing the highest clinical care through:
evidence-based medicine
up-to-date national guidelines.
We hold regular national and international education courses at Royal Brompton Hospital and in connection with shared care partners for medical, nursing and pharmacy teams.
We hold patient information days explaining the active research studies patients can be involved in and pulmonary hypertension art exhibitions. We also support the vital activities of the Pulmonary Hypertension Association.
---
What is pulmonary hypertension?
Definitions, clinical and functional classification
Pulmonary hypertension (PH) refers to a group of conditions where the blood pressure in the lungs is raised due to narrowing of the blood vessels in the lungs. It is a rare condition that affects approximately 1 in 20,000 people in the UK unlike the commonly raised blood pressure, also known as systemic hypertension. 
It is important to correctly diagnose, treat and manage pulmonary hypertension because it is potentially a serious, life-threatening condition. PH can occur with or without an identifiable or known cause.
Common symptoms
Some of the more common symptoms of PH are:
shortness of breath
fatigue. 
Some of the less common symptoms are:
dizziness
fainting (syncope)
swelling of feet or ankles
palpitations
chest pain, particularly on exertion
a cough.
Clinical definition of pulmonary hypertension
PH is a haemodynamic and pathophysiological condition defined as an increase in mean pulmonary arterial pressure (PAP) >25mmHg as assessed by right heart catheterisation (RHC).
Echocardiography is a useful screening test, but the accurate test to measure invasive pressures needed for diagnosis is RHC. This test will also determine the severity of PH and right heart function. RHC is also repeated in some cases to assess the response to treatment and to restage PH, for example before escalating treatments.
RHC is essential to split PH into the different subgroups, depending on the pulmonary capillary wedge pressure (PCWP). See the 2015 European Society of Cardiology PH guidelines for more details, including haemodynamic definitions.
Pulmonary arterial hypertension (PAH, group 1) is a clinical condition characterised by the presence of pre-capillary PH in the absence of other causes of pre-capillary PH such as PH due to:
lung diseases
chronic thromboembolic PH (CTEPH)
other rare causes (see classification below).
PAH includes different forms that share a similar clinical picture and pathological changes of severe remodelling of the lung microcirculation as detailed in the clinical classification of pulmonary hypertension (see below).
Due to the similarities, patients with PAH subgroups have been studied together in clinical trials of PAH therapies, hence these are the patients where treatments are offered under the national pulmonary hypertension service (NPHS). Some other subgroups, including sarcoid, are also treated under the NPHS, whereas patients in group 2 and 3 are not currently offered PAH therapies. 
Clinical classification of pulmonary hypertension
Group 1: pulmonary arterial hypertension
Idiopathic
Hereditable
Associated with:

connective tissue disease
congenital heart disease
portal hypertension
HIV infection
Drugs and toxins

Group 1: Pulmonary veno-occlusive disease (PVOD) and pulmonary capillary haemangiomatosis (PCH)
Group 2: PH due to left heart disease
Group 3: PH due to lung diseases/hypoxia
Group 4: Chronic thromboembolic pulmonary hypertension (CTEPH)
Group 5: Unclear and/or multifactorial mechanisms
Sarcoid, histiocytosis X, lymphangiomatosis, tumoral obstruction, chronic renal failure on dialysis 
Adapted from Simonneau G et al, JACC 2013;62(25 Suppl): D34-41
Functional classification
The severity of PH can be defined in terms of exercise capacity and can be categorised into four functional classes. The World Health Organisation (WHO) functional classification was adapted for PH from the New York Heart Association (NYHA) classification and categorises patients with pulmonary hypertension into the following classes.
Class I
Patients with pulmonary hypertension but without resulting limitation of physical activity. Ordinary physical activity does not cause undue dyspnoea or fatigue, chest pain or near syncope.
Class II
Patients with pulmonary hypertension resulting in a slight limitation of physical activity. They are comfortable at rest. Ordinary physical activity causes undue dyspnoea or fatigue, chest pain or near syncope.
Class III
Patients with pulmonary hypertension resulting in a marked limitation of physical activity. They are comfortable at rest. Less than ordinary activity causes undue dyspnoea or fatigue, chest pain or near syncope.
Class IV
Patients with pulmonary hypertension with an inability to carry out any physical activity without symptoms. These patients manifest signs of right heart failure. Dyspnoea and/or fatigue may even be present at rest. Discomfort is increased by any physical activity.
Clinical investigation of pulmonary hypertension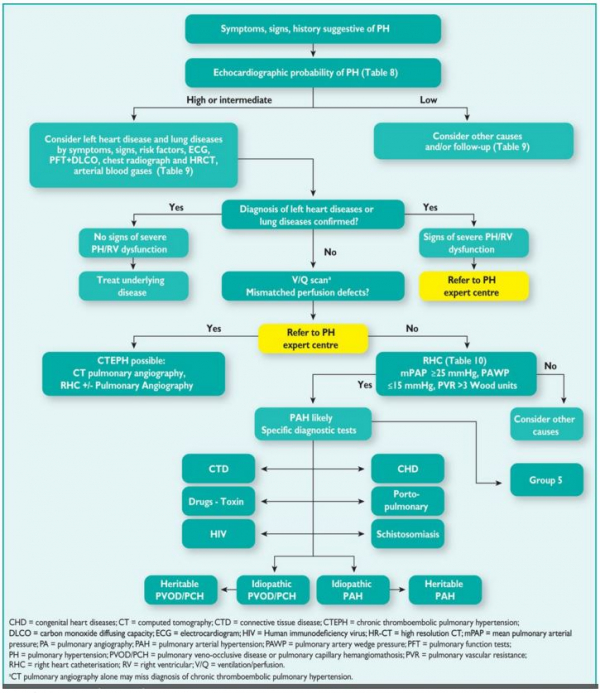 Defining subtype of pulmonary hypertension - ESC guidelines for the diagnosis and
treatment of pulmonary hypertension (download the larger version)
The figure below shows the diagnostic process which starts after the suspicion of PH on echo. The subtype of PH is then defined into the common clinical groups of PH [group 2 (LHD) and group 3 (lung diseases)], then distinguishes group 4 (CTEPH) and finally makes the diagnosis and recognises the different types in group 1 (PAH) and the rarer conditions in group 5.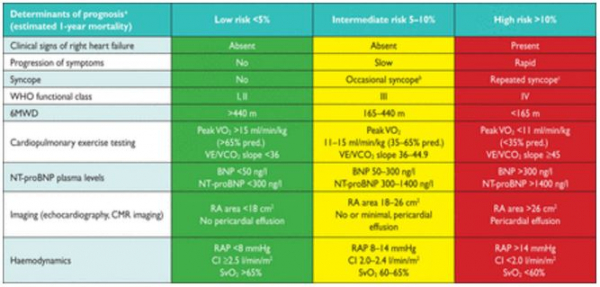 Risk assessment in pulmonary arterial hypertension - ESC guidelines for the diagnosis and treatment of pulmonary hypertension (download larger version)
In PAH, a detailed comprehensive assessment is important to enable a  risk assessment of the PAH patient. This is illustrated in the table below.
The indicated mortality rates are crude estimates and the depicted variables have been studied mostly in patients with idiopathic PAH. Not all variables may be in the same risk group, and it is the comprehensive assessment of individual patients that should guide treatment decisions.
The individual risk is further modified by other factors, such as:
the rate of disease progression
the presence of right heart failure
syncope
co-morbidities
background therapy
PAH subtype.
---
Pulmonary hypertension service
Department of Cardiology, Royal Brompton Hospital, Sydney Street, London, SW3 6NP
Telephone: 020 7351 8362
Fax: 020 7351 8513
Monday to Friday, 9 am to 5 pm 
An answerphone is available at all other times. 
Helpful documents
NPHS RBH transfer policy (pdf, 105.9KB)
What is pulmonary hypertension - Royal Brompton Hospital - August 2014 (pdf, 637KB)