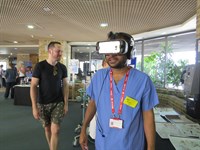 20 July 2018
Virtual reality headsets, dancing for health and growing bacteria were among the range of activities on offer at the seventh annual heart and lung research day, held recently at Royal Brompton Hospital. 
The open day gave an insight into the ground-breaking research at Royal Brompton & Harefield NHS Foundation Trust, with staff, patients, visitors and local students attending. 
Interactive demonstrations included the life-saving ECMO machine, complete with a 'dummy' patient; demonstrating heart muscle movement using 'lazy tongs'; and an opportunity to look down the microscope at some lungs.
Visitors tried out a virtual reality headset, which reproduces the ICU environment.  A pilot trial is underway to show this demonstration to patients having surgery in the hope it will reduce post-operative delirium which some patients experience and which can be very frightening for them and their families.  
Visitors were able to get a taste of how research works by taking part in a mock clinical trial – sampling different kinds of chocolate. There was also an opportunity to grow bacteria with scientists from the National Heart and Lung Institute.
Dance sessions were held with South Asian dance company Akademi, who have been working with Harefield Hospital on a research project to find out whether dance provides tangible health benefits for cardiac and pulmonary rehabilitation patients. 
Sixth-formers from St Saviours and St Olave's School were among those who took part in the dance classes.  
Zinath Oluku, 17, said: "That was really fun – and quite relaxing too. It's interesting to think dance has the potential to have such a positive impact on people's health."
Roundtable talks gave insight into how research leads to life-saving innovations. Dr Carolyn Webb, from the cardiology department, discussed VEST (venous graft external support), a novel device for coronary bypass grafts. 
Professor Thomas Luscher, director of research, education and development, explained how the balloon catheter came into being – and how it continues to save lives. 
The day was particularly inspiring for aspiring scientists. Nicholaus Harrington, aged 17, from The Latymer School said: "I would like to study materials science and engineering and this research day has been perfect for me. I have loved finding out how technology can improve people's lives. For example, Professor Luscher was telling us how stents are being made from crystalised lactic acid – it's incredible what science can do now."
Laura Henderson, research development manager, said: "Research is a fundamental part of what makes our hospitals so special, which is why we are keen to share the work that we do with the wider public.  
"This year's open day was a great success, with several research teams taking part. It was fantastic to see how engaged everyone was with all the demonstrations and hands-on activities."