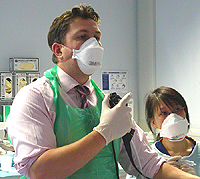 An international clinical trial, led by Professor Toby Maher, which involved 17 centres in the UK, Italy and Ukraine, has shown some promising results for patients with idiopathic pulmonary fibrosis (IPF). 
IPF is caused by a build-up of scar tissue in the lungs called fibrosis, which causes the lungs to become stiffer and lose their elasticity, making it harder to breathe. 
The condition is progressive and currently affects around 32,500 people across the UK, with approximately 7,800 people diagnosed with it each year. 
Currently, no medical therapies have been found to cure IPF which is why there is an urgent need to do more research into the causes, treatments and cure for the disease.
Royal Brompton & Harefield NHS Foundation Trust is one of the leading centres in the UK for IPF and runs several clinical trials into the condition.
This particular clinical trial, known as FLORA, was a randomised, double-blind, placebo-controlled trial investigating the drug GLPG1690, which was developed by Galapagos, a biotechnology company, who also funded the trial.
The main aim of this trial was to determine whether the drug would be well tolerated in patients with IPF. What the researchers found, however, was that not only was the drug well tolerated but that it helped reduce the rapid decline in lung function seen in patients with IPF.
The drug was administered in 23 IPF patients: 17 received the drug, and 6 received a placebo. Over a 12-week period, patients receiving the drug showed a lung function (FVC) increase of 8ml, while patients on the placebo showed an FVC reduction of 87ml.
Professor Maher, who specialises in researching new treatments for IPF and was recently appointed research chair by the British Lung Foundation, is keen to see more focus on developing new treatment options for patients with IPF. He said: "Although new treatments have recently become available, IPF remains a progressive and life-shortening disease. As such, there remains an urgent need for medications which transform outcomes for individuals with this terrible disease. Although it was a small study, FLORA has generated exciting results which will now lead on to larger and longer international trials of the drug GPLG1690."
The results from the trial were published in the Lancet Respiratory Medicine. Read the results (full text may only be available with a subscription).
If you would like to find out more about any of our research, please email us.