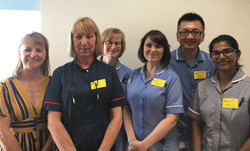 1 August 2018
An international clinical trial investigating a new device for people with heart failure has recruited its first UK patient at Harefield Hospital. 
The study, called Baroreflex Activation Therapy® for Heart Failure (BeAT-HF), is led by Dr Rebecca Lane for the Trust, and aims to investigate the safety and efficacy of this device in people with heart failure. With over 85 sites in the US and five sites in the UK participating in the trial, the study aims to recruit 480 patients in total. 
The device under investigation is designed to stimulate the body's natural cardiovascular regulators called baroreceptors, which are in the large blood vessels (carotid arteries) in the neck. It is thought that when these baroreceptors are stimulated, signals are sent to the brain which tells the blood vessels to relax, the heart to slow down, and the kidneys and heart to produce less stress-related hormones.  
Relaxed blood vessels reduce the strain on the heart and slower hearts tend to be more efficient and improved kidney function helps get rid of more salt and water, which also takes the pressure off the heart.
The device known as the BAROSTIM NEO was produced by CVRx, a US-based medical device company that develops implantable technology for the treatment of high blood pressure and heart failure. 
When asked what aided her research team to be the first to recruit to the study for the UK, Dr Lane pointed out that it was her team's approach to recruitment and their relationship with the support services at Harefield Hospital that was key.  
Dr Lane said; "We are excited to be participating in the BEAT-HF study which offers a potentially promising new treatment for patients with heart failure who despite current best treatment remain severely functionally limited." 
For more information about this study please visit the study website. 
To find out more about any of our other research projects please contact us.