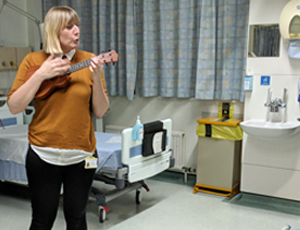 Live music is a very effective creative intervention in healthcare. Playing music on wards and bays engages people of all ages affecting mood, bringing diverse people together, without the need for language. 
It enables us to share a positive experience even during challenging circumstances – and promotes our health and mental wellbeing. Music is also a distraction and provides light relief from the boredom, loneliness and anxiety that may be experienced during a stay. 
Our musicians in residence programme is funded by the Patient Amenity Fund, which is managed by Royal Brompton & Harefield Hospitals Charity.  
This project provides five hours of live music for adults every week until the end of December 2018.
Harefield Hospital
Mondays 2pm to 5pm
Rowan, Fir, Oak, Acorn, AICU and HDU wards
Adrian Garratt, comedy violinist
Royal Brompton Hospital
Mondays 6pm to 8pm on adult surgical wards
Stac Dowdeswell, singer and ukelele player