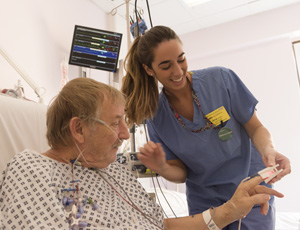 We are the largest specialist heart and lung centre in the UK and among the largest in Europe. We work from two main sites: 
Royal Brompton Hospital in Chelsea, West London
Harefield Hospital near Uxbridge
The Trust is a partnership of these specialist hospitals which are known throughout the world for their expertise, standard of care and research success.  
What is a specialist trust?
Specialist trusts treat patients with rare and complex conditions in a specific area of health. Their clinical teams are skilled in the development and early adoption of new therapies and techniques, and many of the patients they care for cannot be treated in general hospitals.
Specialist trusts are at the forefront of innovation in healthcare and are often responsible for breakthroughs in treatments, which are then adopted by the whole healthcare system. Clinical staff at specialist hospitals are experts in their chosen field and often relocate to specialist centres to further develop their skills. UK specialist trusts welcome clinical specialists from around the globe.
Royal Brompton & Harefield NHS Foundation Trust is a partnership of two specialist heart and lung hospitals, which means that we only provide treatment for people with heart and lung disease. We carry out some of the most complicated surgery, and offer some of the most sophisticated treatment that is available anywhere in the world
Among their many achievements, experts at the Trust:
Our research
Research programmes play a vital role at both our hospitals. This is because the most talented medical experts are rarely content with using tried and tested methods to treat their patients. 
The opportunity to influence the course of modern medicine by developing new treatments is a prospect that attracts them to specialist centres, where research opportunities are a fundamental part of delivering patient care. Many medical advances made at the Trust have been taken up across the NHS and beyond. 
Each year, between 500 and 600 papers by researchers associated with the Trust are published in peer-reviewed scientific journals, such as The Lancet and New England Journal of Medicine. 
Our main partner is the National Heart and Lung Institute at Imperial College, London. We run additional research projects with other hospitals and universities in the UK and abroad. 
Useful facts
In 2016/17 we:
cared for more than 200,000 patients in our outpatient clinics
cared for nearly 40,000 patients of all ages on our wards
received more than 10,000 patient comments, of which more than 90 percent were positive
received a 96 percent recommendation score in the annual Friends and Family Test
helped nearly 14,000 adults who have breathing problems caused by diseases such as COPD (chronic obstructive pulmonary disease) and severe asthma
broke ground on a new development at Harefield Hospital to expand the intensive care unit and treat 250 additional patients each year
carried out 1,075 coronary artery bypass grafts
were one of the top three most highly cited health research teams in England – with 790 papers published in scientific journals
saw almost 700 patients in our adult cystic fibrosis (CF) clinics, making us one of the largest and most active adult CF centres in Europe
successfully transplanted an artificial heart into a child – the first in Europe
maintained one of the fastest arrival to treatment times for heart attack patients in the UK (23 minutes compared to a national average of 56)
raised more than £11 million for research
performed 475 surgical procedures for congenital heart disease (350 paediatric, 125 adult)
recruited 2,700 patients onto 200 research programmes that will contribute towards better patient care and outcomes
balanced our books, recording a £2 million financial surplus at year-end