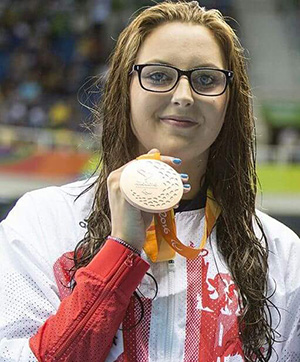 Just two months before winning three medals at the Paralympic Games in Rio, swimming star Jessica-Jane Applegate MBE had career-saving throat surgery at Royal Brompton Hospital. 
The 21-year-old Paralympian became ill in January 2016, during a vital stage in her preparation for heading out to Rio, and found herself struggling to breathe and unable to train.
After initially putting it down to asthma, a chest infection, or the stress of training for a major event, Jessica-Jane eventually met Dr James Hull, honorary clinical fellow in respiratory medicine at Royal Brompton, who tested her for exercise-induced laryngeal obstruction (EILO).
Jessica-Jane explained: "I looked at all options and tried everything else before resorting to surgery, but I was really struggling in the pool training and nothing was helping.
"I thought I was going mad but Dr Hull really understood how I was feeling. It was a really difficult choice because I had qualified for the Rio Paralympic Games and there was no guarantee that I would recover in time to get enough training in."
Royal Brompton is the only hospital in the UK that offers a unique exercise test that records what is happening to the vocal cords when people exercise. In some athletes, the voice box closes, leading to breathlessness. This is known as EILO and is often misdiagnosed as asthma.
EILO is scored for severity on a scale of 0 to 3. Jessica-Jane scored 2.5 – and was operated on the day after her test.
Jessica-Jane made it to the Rio games nine weeks after her operation. She won two silver medals and a bronze medal in the S14 classification for those with an intellectual disability.
She added: "I had the operation nine weeks before I was due to meet the team for the Rio holding camp. Everyone was so helpful throughout my stay in hospital and kept telling me how well I had done to even qualify struggling the way I was.
"After the operation, I had to have three weeks of complete rest, which as an athlete is so frustrating, but I knew that if I did anything that caused any damage that could be the end of Rio for me.
"After a few more weeks British swimming wanted to assess my fitness to see if they would still take me to Rio. I worked so hard to make that team that there was no way I was I going to fail a fitness test and be left behind!
"I passed the test, flew out to Rio and competed in my events. I was five 100ths of a second off my personal best time, so in just a few weeks not only had I recovered – I was swimming the best I had in 18 months."
Jessica-Jane is fully back in training and has set six new world records since Rio. She will be going for gold at Tokyo 2020, and the Royal Brompton team wishes her every success.