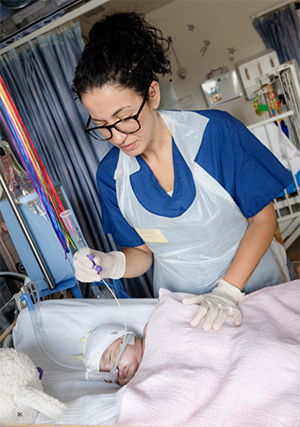 Royal Brompton and Harefield Hospitals is a national specialist referral centre for children with a range of heart and lung conditions. Our clinicians often provide care from before a child is born, throughout childhood and into adolescence, before managing a smooth transition to our adult teams. 
We are a leading centre for the treatment of paediatric congenital heart disease (CHD), inherited cardiac conditions, fetal cardiology, paediatric cystic fibrosis and severe asthma, as well as rare lung conditions such as primary ciliary dyskinesia (PCD). We are the largest UK centre for children with heart rhythm problems and the third largest for paediatric cardiac surgery. 
Our children's and adult teams liaise closely to ensure a seamless transition between services as a child reaches teenage years. This is increasingly common as survival rates for conditions such as CHD, cystic fibrosis and severe asthma continue to improve year-on-year.
A successful ongoing partnership with neighbouring Chelsea and Westminster Hospital, delivered via formal service level agreements, enables us to provide any additional care on-site that our young patients might need – for example gastroenterology, ear nose and throat surgery, and other general surgery. 
Discovery of the faulty gene linked to rare lung condition
Specialists at Royal Brompton and University College London (UCL) have identified a new gene that causes the rare lung condition primary ciliary dyskinesia (PCD).
The PCD specialists, who sit within our paediatrics team, worked with researchers from around Europe on the ground-breaking study, including hospitals in Italy, France and Switzerland.
In patients who have PCD, the cilia (tiny moving structures that line the airways, ears and sinuses) are unable to function, meaning the body is unable to keep these areas clean and free from infection. It is an inherited condition that affects around one in 20,000 people. It is thought to be inherited in a similar way to cystic fibrosis, but is often much more difficult to diagnose.
3D technology enables researchers to have a more detailed understanding of PCD. In people with the faulty gene, tiny parts of the lung, as small as nine millionths of a millimetre, were missing.
Dr Claire Hogg, Trust PCD lead, said: "Children with PCD are often diagnosed late, by which time significant lung damage can occur. Our gene discovery programme, in partnership with UCL, is allowing us to make an earlier, more accurate diagnosis. This in turn results in less lung damage."
Royal Brompton is one of only three diagnostic and four management centres for PCD in England, and teams at the hospital treat around 400 patients every year. 
Fiona Copeland, Chair of PCD Family Support Group and mother of two sons with the condition, said: "We discovered that my sons both had PCD when they were four and six years old, by which time my eldest had already developed bronchiectasis [irreversible lung damage] on a third of his right lung. Earlier diagnosis may have prevented this from happening. 
"We welcome any research that will help diagnose children quicker so they can start their treatment regime earlier and help them stay as well as possible for longer."
Children's unit named after Sir Robert Finch 
The Trust's Sleep and Ventilation Unit for Children has been named after Sir Robert Finch, in memory of our late chairman.
Sir Robert, chairman for seven years, passed away suddenly in April 2016 after a short illness. He fought hard to protect our paediatric services when they were under threat during the national 'Safe and Sustainable' review between 2011 and 2013, so it was particularly fitting to name the children's sleep and ventilation unit in his memory.
The official naming ceremony was attended by Sir Robert's family, and chief executive Bob Bell spoke of the former chairman's dedication to the Trust and in particular to children's services.  
Hospital school shares expertise
The Trust's hospital school has been sharing its experience in providing education to children who are in hospital to help both private sector and international organisations.
The Chelsea Community Hospital School, which supports three other NHS hospitals in west London including Chelsea and Westminster Hospital, provides education for inpatients aged four to 18 years. 
In January 2017 the school started providing education services to two private hospitals in London, the Harley Street Clinic and The Portland Hospital. They are the first private hospitals in the country to offer hospital schooling to their patients, and they came to the Chelsea Community Hospital School as experts in the field.
Providing this service to the private sector will mean a boost in funding for the Trust's school and a chance to spread our learning and expertise.
International partnerships have long been forged by the school and this year, through the Well at School initiative (www.wellatschool.org), the school has been reaching further afield.
Representatives travelled to Chile to attend the first conference in Latin America to focus on education for children in hospital. Later this year the destination will be Moscow.
Janette Steel, headteacher at the Chelsea Community Hospital School, said: "We need to recognise that patients are not just bodies that we need to make better, they are minds too. We have years of experience of educating children in hospital and can help other countries and organisations who are only just beginning on their hospital education journey."
The hospital school is open 50 weeks of the year and is a registered exam centre, ensuring that patients can sit exams if well enough to do so.
Trust experts focus on diagnosis and care for children with asthma 
Experts at the Trust have helped develop a new online toolkit for children with asthma, and have highlighted the importance of diagnosing the condition correctly.
Dr Louise Fleming, honorary consultant in paediatric respiratory medicine and expert in problematic, severe asthma, worked with Healthy London Partnership to help develop an innovative toolkit, which gives those who support children and young people with asthma access to practical resources and information. 
The London Asthma Toolkit is an online resource that contains practical, downloadable tools and advice, including job descriptions and service specifications, and examples of best practice in children's asthma care across London.
There are sections aimed at hospital and community clinicians, commissioners, pharmacists, GPs, schools, and parents/carers. 
Dr Fleming said: "It's really important that we work in partnership with parents, schools, GPs and other hospitals to improve the standard of care for children with asthma.
"This toolkit enables examples of best practice to be shared across sectors and is a valuable resource for all those involved in the care of children with asthma."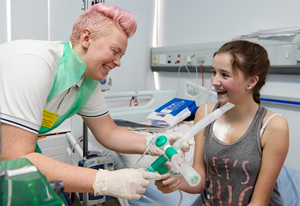 Dr Fleming has also highlighted the importance of properly diagnosing children with asthma, in an editorial written with Professor Andrew Bush, consultant paediatric chest physician and professor of paediatric respirology (Imperial College, London). 
The editorial in Archives of Disease in Childhood suggests that asthma in children is often misdiagnosed, potentially leading to unnecessary side effects for young patients who may be using steroid inhalers when they don't need to. 
It acknowledges that asthma was under-diagnosed in the past, but that the pendulum has now swung too far the other way. Children often outgrow symptoms or have changing symptoms, and progress should therefore be monitored regularly. 
Teams at the Trust see children from all over England at specialist asthma clinics, where assessments are undertaken by a multi-disciplinary team of consultants, specialist nurses, psychologists and physiotherapists.
(Image right: Students from our hospital school joined fellow pupils from four other hospital schools to take part in a virtual choir. Janette Steel, headteacher at the Chelsea Community Hospital School, said: "Our virtual choir is a fantastic opportunity for children to come together and sing in unison, even if they can't be in the same place
physically.")
Sensory play area part of playroom makeover
A sensory play area, including a flashing lightbox, infinity tunnel and bubble tube, has been opened on the children's ward – giving patients a welcoming, stimulating area to play in.
The play area is part of a £100,000 makeover of the playroom on Rose Ward, which also includes a section aimed specifically at older children, with a large TV, PlayStation and DVDs designed to make them feel more at home. 
The new sensory 'hub' means two children with cystic fibrosis (CF) can now play in the room at the same time, with one in the hub and the other in the main part of the playroom. Previously only one child with CF could be inside the playroom at one time because of the risk of cross infection. The hub has its own source of ventilation, which reduces the amount of germs in the air, allowing children with CF to play safely without feeling isolated.
Joanne Knowles' two-year-old son, William, has received care at Royal Brompton since birth. She said: "The new playroom is absolutely amazing – it's really bright and welcoming."
The makeover was made possible due to funding from The Brompton Fountain charity and the Royal Brompton and Harefield Hospitals Charity, as well as money raised by staff and donations from parents.
Maxine Ovens, play service manager, said: "Having a welcoming, well-equipped playroom is so important for the children staying in the hospital. In addition to keeping children occupied and distracted from their conditions, play relieves anxiety and helps children to cope with their recovery.
"The playroom is a place where the dedicated play team can ensure that children are fully prepared for their experiences in hospital and help them to understand their illnesses and the importance of their medication in a relaxed, non-clinical environment."