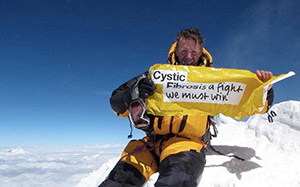 Royal Brompton and Harefield Hospitals are world leaders in the diagnosis, management and treatment of lung disease. 
Patients from the UK as well as overseas are treated for the full range of respiratory disorders including: asthma and allergy, cancer services, lung inflammation and cystic fibrosis, lung infection and immunity, lung failure (including transplant, COPD and sleep and ventilation), and lung assessment (including sleep studies, lung function and physiology). 
Our teams run the largest interstitial lung disease clinic in the UK, the largest asthma clinic in London and the south east, and the biggest occupational lung disease service in the UK. We are also home to the largest cystic fibrosis clinic in the UK, and the largest centre for surgical treatment of lung cancer.
Patient becomes first person with cystic fibrosis to conquer Everest
A Royal Brompton patient has entered the record books as the first person with cystic fibrosis (CF) to get to the top of the world's highest mountain, in a feat that seemed impossible after two dramatic failed attempts.
Nick Talbot, 40, was diagnosed with CF when he was 12, after twice developing a rapidly-progressing and potentially fatal lung disease. He has benefited from being able to take a new medication (ivacaftor) which has led to his lung function improving, as well as his overall health. 
Over the years Nick has pushed himself with various impressive climbing challenges. His ascent of Everest is part of his attempt to climb the highest mountains on each continent, raising money for CF charities as he goes. He has so far got to the top of four of the summits, with three left to conquer. He has already raised over £100,000.
This was Nick's third attempt to get to the top of Everest. In 2014 his first attempt failed when all expeditions had to turn back following a number of deaths on the mountain passes. Then, in 2015, during Nick's second attempt, an earthquake triggered an avalanche, leading to the tragic death of his friend and climbing companion, Dan, and leaving him seriously injured.
Nick's third, and successful, climb took seven weeks – the same length of time that it generally takes someone with normal lung function.
Nick has been a patient at Royal Brompton since moving to London 19 years ago. In November 2016, he gave a motivational speech during a course for exercise practitioners from across the UK, run by the CF team.
On his health, he said: "I am lucky to have a less debilitating form of the condition and doubly lucky in having had great doctors and access to ivacaftor, which means I have far fewer infections and less need to come to hospital for additional medication.
"The new medication has meant that I can no longer participate in medical trials and so I have been looking for new ways to help the CF Trust and people who are suffering from CF."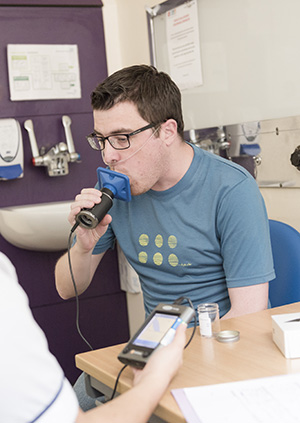 Cystic fibrosis virtual appointments: a foundation for future innovation 
Thanks to significant advancements in care and treatment, cystic fibrosis (CF) is no longer a disease of childhood: individuals with CF now routinely live well into adulthood, starting families of their own and developing successful careers.
Adults with CF are increasingly busy with work and families, and getting into central London for regular appointments can be time consuming and expensive. CF experts at Royal Brompton have been exploring ways to make it easier to keep up with appointments – wherever patients may be.
Dr Su Madge, consultant nurse and associate director of the adult CF centre, explained: "We have been using Skype for Business, so that we can conduct 'virtual' clinics with patients in their own homes. This appears to be a win-win solution – no journey times, no travel costs and the risk of cross-infection is completely eliminated.
"Currently we use this for patients whose condition is well-managed and for whom we know it is safe. Anyone who needs a more thorough check-up will of course continue to come to the hospital as normal.
"This is only the first phase though: the Skype clinics allowed us to establish proof of principle – that we can do effective consultations remotely – the next phase will involve working with the technology sector to develop equipment and apps that patients can use at home to measure lung function, oxygen saturation and have blood tests done."
New director to lead Royal Brompton's cystic fibrosis centre
Professor Stuart Elborn CBE, internationally-recognised specialist in CF, joined Royal Brompton in October 2016 as clinical professor of respiratory medicine, and centre director for specialist adult CF.
Professor Elborn was previously dean of the school of medicine, dentistry and biomedical sciences at Queen's University, Belfast. He trained in Belfast and helped develop CF centres in Nottingham and Cardiff, before returning to the city to set up a clinical centre for adults with CF in Belfast City Hospital in 1995. The centre has developed to become one of the largest and most influential in Europe.
A great advocate of harnessing new technologies to better centre care on the needs of patients, Professor Elborn has plans to make even greater advances to the virtual clinics programme in the coming year.
New COPD treatment offers hope of long-term benefits
A pioneering new treatment for people with chronic obstructive pulmonary disease (COPD) was trialled by experts at Royal Brompton Hospital in partnership with neighbouring Chelsea and Westminster Hospital.
The trial was part of the international AIRFLOW-1 clinical trial, examining the safety of a new treatment for COPD patients called 'targeted lung denervation'.
The new procedure uses electrodes to destroy branches of the vagus nerve in the lungs. In patients with COPD these nerves are over-active, usually as a result of damage caused by smoking. By blocking the actions of the vagus nerve, it is hoped that patients' symptoms, lung function and quality of life will be improved. 
Experts hope that the one-off treatment will have permanent benefits, and may replace the need for the long-term use of anticholinergic drugs, which are often prescribed for patients with COPD.
Professor Pallav Shah, consultant respiratory physician, tested the procedure on patients with moderate to severe COPD. He said: "Treating the nerves in this way blocks their actions more efficiently than anticholinergic inhalers, which only work temporarily, can have irregular distribution within the lungs and may cause side-effects such as blurred vision and urine retention in a small number of patients."
Exercise rehabilitation found to help older people with COPD
Exercise rehabilitation could help older people with COPD) and even make them less frail, according to a study by Royal Brompton & Harefield and King's College London.
The joint study found that one in four COPD patients responds favourably to exercise rehabilitation, despite being frail.
Conventionally, rehabilitation of older people has focused on improving balance to prevent falls. But the surprising outcome of this study provides evidence for exploring the use of pulmonary rehabilitation – which targets many components of frailty, including slowness, fatigue, weakness and physical inactivity – in frail older patients.
COPD, a collection of lung diseases including chronic bronchitis, emphysema and chronic obstructive airways disease, affects one in 10 people over the age of 65 and is associated with greater risk of falls, disability, hospitalisation and death.
The study involved more than 800 COPD patients from Harefield Hospital completing an eight-week rehabilitation programme. Those who were frail scored consistently better in measures of performance, breathlessness, exercise, physical activity and health status, compared to non-frail patients. By the end of the programme, 61 per cent of previously frail patients no longer met the criteria for frailty.
Consultant chest physician Dr William Man said: "Although COPD is primarily a lung disease, many organ systems can be affected, contributing to the syndrome of frailty.
"This research shows the importance of taking a holistic approach to care and identifies that interventions such as exercise training can bring great benefits to people with lung disease, without necessarily treating the lungs."
Sleep assessment rooms made accessible to all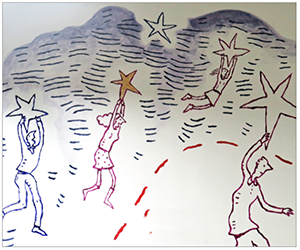 The sleep labs at Royal Brompton were completely overhauled during 2016/17 so that they are accessible for all patients, regardless of their care needs.
The area has also been transformed with the addition of a series of artworks, including a whole-wall mural, by renowned artist and illustrator Steven Appleby.
The sleep ward has been converted from four bedrooms to three, allowing each bedroom to be larger and have accessibility features such as wet rooms and automatic doors.
The renovation means the sleep labs are accessible for patients with conditions such as cystic fibrosis, curvature of the spine and neuromuscular disorders. Many of these patients develop sleep disorders, which can be diagnosed in the sleep labs. 
Professor Anita Simonds, consultant in thoracic medicine, said: "We are seeing a lot more of these patients in the sleep labs now, as many more are living to adulthood due to ventilation therapy. 
"Previously they would have to be on the ward in order to have their sleep disorder assessed. Now they can come and stay in one of our sleep rooms, which are comfortable and accessible for them."
To make the newly-renovated area even more inviting, artist Steven Appleby, best known for his comic illustrations in a number of national newspapers, was commissioned to produce a series of artworks. Steven had previously produced more than 50 works of art for the Royal Brompton Centre for Sleep.
These new artworks adorn the walls of the new bedrooms, as well as the eye-catching whole-wall mural, to provide an interesting, thought-provoking environment for patients and staff alike.
Major UK trial reveals effectiveness of lung cancer screening 
The Trust was a partner in a major clinical trial to provide evidence for a national lung cancer screening programme.
The UK Lung Cancer Screening Trial (UKLS) found that patients at high risk of developing lung cancer have a 73 per cent chance of living for five years or more if the disease is identified at an early stage. The trial was carried out by teams from the Trust along with the University of Liverpool, Liverpool Heart and Chest Hospital, and Papworth Hospital. It was funded by the National Institute for Health Research (NIHR) health technology assessment programme.
The trial involved over 4,000 people aged 50 to 75 who are at high risk of developing lung cancer. It compared screening with computed tomography (CT) scans to existing care. All CT scans were reviewed at Royal Brompton Hospital.
Dr Anand Devaraj, co-investigator on the UKLS trial and radiologist, said: "For this trial, selected participants were randomly split into two groups: screening using CT and non-screening.
"Over two per cent of high-risk individuals in the screening group were diagnosed with lung cancer. Importantly, in over 80 per cent of these cases, lung cancer was diagnosed at an early stage, which is crucial to improving survival rates."
The results of the trial will provide the UK National Screening Committee with evidence to make a decision on a national lung cancer screening programme.
Next: Paralympian's career-saving throat surgery at Royal Brompton >