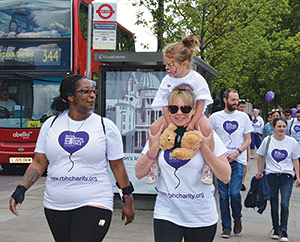 Royal Brompton & Harefield Hospitals Charity raises money to support the Trust's pioneering work in heart and lung disease diagnosis, treatment and research. 
The charity, a legally independent body, raises money to fund projects for both hospitals. A board of trustees oversees its work under the chairmanship of Richard Hunting CBE, while chief executive, Gill Raikes MBE, manages day-to-day operations.
Harefield Hospital intensive therapy unit appeal
Plans are underway to build an extension to Harefield's intensive therapy unit (ITU), which will treat an extra 250 people a year. In 2015 the charity launched its 'Sponsor-a-brick' appeal, which aims to raise £1.1m over two years to support the new extension. Donors can buy a brick for £50, or join friends, family or colleagues to sponsor a group of bricks.
Patient amenities fund 
The patient amenities fund is used for improving facilities for patients and their families, and this year the charity raised the annual amount available for projects from £100,000 to £150,000. Recent purchases include a portable treadmill to help isolated cystic fibrosis patients remain active, and a blanket-warming cabinet to keep elderly patients snug while in air-conditioned areas of the hospitals.  
Royal Brompton hybrid theatre appeal
The charity contributed £4m towards Royal Brompton's new state-of-the-art hybrid theatre, which was opened in November 2015. The theatre is the largest of its kind in the UK, and combines the environment of an operating theatre with the imaging capabilities of a catheter laboratory. See page 16 for more information.
3D printing programme
In January 2015, the charity launched a campaign to raise £50,000 to fund the Trust's highly innovative 3D printing programme. This new technology creates 3D replicas of organs, which can be used in complex diagnoses and surgery.
rb&hArts
rb&hArts relies on charity funding to provide patients with a variety of creative activities and performances. Through these, it engages with approximately 3,500 people each year. Activities range from singing and on-site musicians to site-specific commissions of artwork on wards. This year, rb&hArts worked with South Asian dance company Akademi, and the Big Lottery Fund, to provide patients at Harefield Hospital with an enjoyable new way to keep active. 
Fundraising activities
Each year, the charity combines new fundraising events, such as the Women We Admire Lunch, with annual favourites like the Denham Golf Day (with thanks to Dr Miles Dalby) and the London Bridges Walk, which attracted nearly 200 participants. 
To mark the Harefield centenary, the charity, with tremendous support from Harefield staff, the arts team and volunteers, held a week of activities in a marquee on the Harefield campus. This culminated in a midsummer ball, with special guests Anton Du Beke and Lance Ellington.   
Last year, £800,000 was raised via community events and donors raising money through their own efforts. 
Highlights for 2015/16:
Annabel Bartfeld and Hexagon Classics raised £23,500 towards a new playroom by holding a  
Le Mans Q&A event last summer. 
Hitachi Capital gave ongoing support for Harefield Hospital through cycling challenges and other fundraising activities. 
The Mayor of Hillingdon, Cllr John Hensley, raised £50,000 towards Harefield Hospital's intensive therapy unit extension through tireless fundraising in his borough. 
The Mayor of Kensington and Chelsea, Cllr Robert Freeman, and his committee, raised £58,000 to be put towards diagnosing bespoke treatments for lung cancer sufferers.   
Team Macy donated £13,800 towards genetic research into cardiomyopathy. 
The Squires Foundation, Skyscape Cloud Services, Garfield Weston Foundation, the Monday Charitable Trust and The Orrin Charitable Trust gave generous support towards the Hybrid Theatre Appeal. 
---