During 2015/16, a number of Trust experts were recognised for their work.
Many Trust experts hold key positions in professional associations, colleges and societies and act as advisors to government departments. They travel widely, giving lectures and presenting at conferences. Each year, a number of our experts gain particular recognition for their work. Some noteworthy achievements include: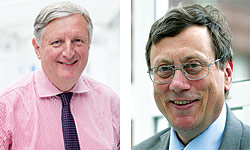 Professor John Pepper, consultant cardiac surgeon, was awarded the Order of the British Empire (OBE) in the Queen's birthday honours on 13 June 2015, for services to heart and lung surgery. Professor Pepper is the academic lead of the Trust's aortic team and has performed some of the most advanced heart surgery in the UK. 
Consultant paediatric chest physician, Professor Andrew Bush, was awarded the past president's award at the International Congress on Paediatric Pulmonology in Krakow, Poland in June 2015. The award was in recognition of Professor Bush's "extraordinary leadership, intellect and example, and his contribution to child lung health globally". 
The research of Dr Nick Hopkinson, honorary consultant chest physician, and Mr Eric Lim, consultant thoracic surgeon, was also recognised by Imperial College London when they were appointed to the position of reader. Royal Brompton's SPRinT (Simulated interPRofessional Team training) programme won the Education and Training in Patient Safety category at the national Patient Safety Awards in July 2015. The team saw off competition from nine other organisations shortlisted from a total of 100 submissions. SPRinT uses in-situ simulation to provide the multidisciplinary team involved in patient care with insight into human factors that influence personal performance, and strategic crisis training.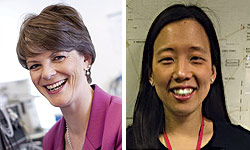 Professor Mary Morrell (right), who co-founded the academic unit of sleep and ventilation at Royal Brompton, was appointed president of the British Sleep Society (BSS) at its scientific meeting in October 2015. At the same meeting, Dr Hui-Leng Tan, consultant in paediatric respiratory and sleep medicine, was awarded the Colin Sullivan Sleep Research award. Dr Tan was the first recipient of this prize, which is given to support sleep research in the UK. She was also the first paediatric consultant to receive an award from the BSS.
Clinical research fellow, Dr Ee Ling Heng (right), won the Young Investigator prize at the British Congenital Cardiac Association annual meeting in November 2015. The award was in recognition of Dr Heng's PhD research into outcomes following pulmonary valve replacement in patients with repaired tetralogy of Fallot (a congenital heart disease where there are four structural abnormalities within the heart that occur together). 
Three Trust staff were appointed to strategic leadership positions across the National Institute for Health Research (NIHR) Clinical Research Network in 2015. Professor Eric Alton, honorary consultant physician, was appointed national lead for the Clinical Research Network Theme B, which encompasses respiratory, ear, nose and throat, gastroenterology, hepatology and infection. Professor Wisia Wedzicha, respiratory medicine consultant, and Professor John Pepper OBE, consultant cardiac surgeon, were appointed national speciality leads for respiratory and cardiovascular diseases respectively.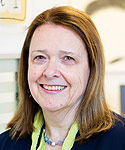 In 2015, Anita Simonds (right), professor of respiratory and sleep medicine, was appointed chief editor of ERJ Open Research, a new online-only, open-access journal launched by the European Respiratory Society (ERS). Professor Simonds is supported by an expert team of associate editors, including Dr William Man, consultant chest physician at Harefield. 
Professor Dudley Pennell, director of the National Institute for Health Research (NIHR) cardiovascular biomedical research unit (BRU) and the Trust's cardiovascular magnetic resonance unit (CMR), was given an NIHR senior investigator award for a four-year term in March 2016. The award recognises Professor Pennell's outstanding contribution to the national health research agenda in cardiology. He joins six other NIHR Senior Investigators at the Trust. 
Consultant cardiac surgeons Mr Neil Moat and Mr Cesare Quarto won two international awards for presentations about their work on a world-first transcatheter heart valve implantation to treat mitral regurgitation (a leaking mitral valve). Mr Moat won the Dr Martin Leon prize for his presentation at the Heart Valve Society Meeting in Monaco in May 2015, while Mr Quarto won the Robert Emery Young Investigator Award for his presentation at the International Society for Minimally Invasive Cardiothoracic Surgery annual meeting in Berlin in June 2015.
Melissa Rochon, clinical nurse specialist in surveillance, won a top award for her presentation at the Society for Cardiothoracic Surgery in Great Britain & Ireland (SCTS), Cardiothoracic Forum, held in May 2015. Her presentation, entitled 'Preliminary findings: Targeting coronary artery bypass graft (CABG) patients at high risk of surgical site infection', showcased work by a multidisciplinary team at Royal Brompton.
The 'exceptional' work of Bethan Cowley, clinical nurse specialist in inherited cardiac conditions (ICC), was recognised with a You're Simply Marvellous award from the patient-led heart failure charity, The Pumping Marvellous Foundation, in January 2016. The award recognises healthcare professionals in the UK who provide outstanding quality of care and treatment to heart failure patients.
---