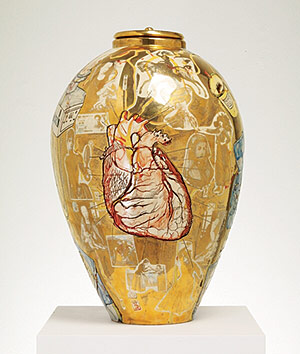 rb&hArts, supported by Royal Brompton & Harefield Hospitals charity, brings all forms of the arts to patients, visitors and staff. 
Over the past 14 years, rb&hArts has established a world-class hospital arts programme, which aims to improve the health and wellbeing of patients, visitors and staff. Research on the impact of arts in healthcare settings shows it can improve clinical outcomes, shorten length of hospital stay, improve mental wellbeing, and support patients to manage long-term conditions. 
rb&hArts provides a wide range of arts activities including visual arts, live music and singing. More than 3,500 people take part in arts activities every year. 
The arts team manages a permanent collection of 1,200 artworks, which are displayed in patient, staff and public areas. Last year they held 15 temporary exhibitions in public areas such as the coffee shop, offering artwork for sale (in part to generate income for rb&hArts) including work by artists Jennie Ing and Emma Hunter.
The team also supports capital projects, working with colleagues to integrate art into the fabric of the buildings. Most recently this has included new digital wallpaper throughout one of our respiratory wards, created in consultation with patients.
Music on the wards 
Music in healthcare is particularly effective as it engages people of all ages, transcends the need for language and helps people share a positive experience, even during very challenging circumstances. 
Comedy violinist Adrian Garratt performs in the transplant unit, high dependency unit and intensive therapy unit at Harefield Hospital. Many patients have said that his presence relieves the boredom, loneliness and anxiety of being in hospital. 
Musician Heather McClelland sings to young patients by the bedside in our paediatric ward. Young patients listening to her music reported significantly less pain and distress while having a line inserted into a vein than those who did not. Heather is also developing a series of singing activities for young patients to help them with their breathing (based on a similar model to our work with adults, Singing for Breathing).
In 2016, Mark Levin, who plays the celtic harp, joined the arts programme, playing every week on the adult surgical wards.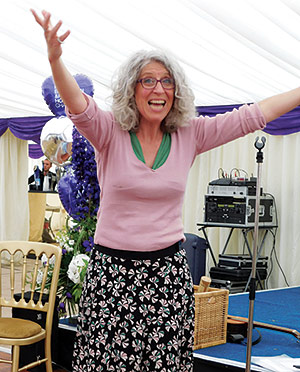 Singing for Breathing 
Singing for Breathing is rb&hArts flagship project, supporting people living with chronic lung and heart conditions or who experience breathlessness. The workshops include relaxation techniques, breathing exercises and vocal exercises, as well as singing a wide range of songs – often chosen by the singers themselves. In 2008, Singing for Breathing was one of only two such projects in the UK – there are now more than 50 classes nationally and they are growing all the time. Since its inception the arts team has delivered workshops continuously and have supported several hundred people living with breathlessness to improve their quality of life. 
Singing for breathing events are also organised with other hospitals – one of the most successful was delivered as part of a live well with lung cancer event organised by Royal Marsden, Chelsea and Westminster and Royal Brompton hospitals.
---