Part of our commitment to improving patient care involves providing the best facilities to deliver specialist heart and lung treatment, and research. As part of this commitment, work started on a new imaging centre in April 2019. Our current imaging facilities already offer patients some of the most cutting-edge services to diagnose cases of suspected heart and lung disease in the UK, but the new centre will also allow us to:
expand clinical services
increase research and education programmes
create the type of environment patients expect from a leading specialist heart and lung hospital Trust
improve access to our imaging services, including MRI, CT and x-ray
house all the imaging facilities in a bigger, better space.
The plans for the centre have been co-designed with clinical teams and patients to ensure that we provide the best care in a suitable environment.
The design
The new centre will be four storeys – two above and two below ground level – and is designed to make movement around the centre easier and more direct for both patients and staff. The building is also future-proofed, which will allow us to adapt and expand if we need to in the future.
Interior design
The imaging centre redevelopment offers us a blank canvas to create a comforting space of calmness and support to all our patients, which is something our project team, the Trust's arts team, and designers are all working hard to achieve.
Building work phases
There will be two phases of building work, these include:
Phase 1: Preliminary building work started on Dovehouse Street, SW London, in April 2019. The phase 1 programme will include:
setting up the site with hoarding and an operative secure entrance
stripping the interior of the existing building
demolishing the outer structure of the existing building
Phase 2: This involves building work which is expected to take around 18 months – details regarding a start date are to be confirmed.
Find out more about the imaging centre's community group liaison meeting
Since the end of February we have completed the imaging centre piling works, the erection of the site tower crane and excavation gantry. The construction of the reinforced concrete frame will continue into late Autumn. Below are some of the photos that have been captured of the building work across the past few months.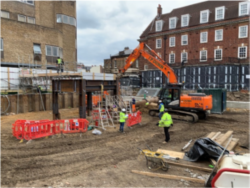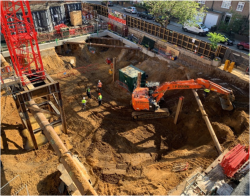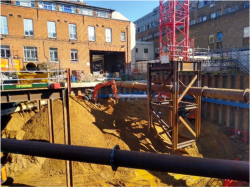 Over the next couple of months, the project will also see some new activities: 
July - enabling works to provide a temporary fire escape staircase for Chelsea wing to replace the permanent staircase due to be demolished
August - scaffolding put up and start of second demolition phase