It has been another successful year for the Trust. Within these pages, you will get some sense of the impressive contribution made by teams at our hospitals to patient care now and in the future.
You will read about one young girl's life-saving surgery that reflects the very best our Trust has to offer: seamless collaboration between clinical teams on both sites, another specialist Trust and a device manufacturer; the availability of highly specialist expertise across a number of disciplines; and a desire to innovate that not only saved a life, but also paved the way for a new treatment to be made available to children – in this case, total artificial heart implantation. 
You will read about our cystic fibrosis 'virtual clinics' – introduced to cut the number of hospital visits patients need to make, saving them time and money and crucially, eliminating any risk of cross-infection. Skype clinics have allowed our experts to establish proof of principle. The next phase of their programme will involve working with technology companies to develop equipment and apps to be used at home to measure lung function, oxygen levels and other key diagnostics. The benefit for patients will be significant. 
You will also read about the continuing success of our research teams who, during 2016/17, had 790 papers published, raised over £11 million in external funding and recruited 2,700 patients to 200 research programmes, including global studies sponsored by industry, trials involving new devices and medicines and international registry studies. 
These examples have a common theme, one that is present in much of the delivery of 21st Century healthcare, the theme of collaboration. 
To deliver the best patient care, healthcare is becoming less and less about single institutions and far more
about collaboration and creating networks and systems of care. Organisations working alone are increasingly finding it difficult to deliver what patients need. 
For a heart and lung specialist Trust such as ours, the need to look ahead and consider new models of working has also never been more important. 
Cardiovascular diseases are the most prominent cause of death globally: year on year, more people die from these diseases than from any other cause. In the UK, there are an estimated seven million people living with cardiovascular disease, with an average of one death every three minutes. Respiratory illnesses account for around 25 percent of all deaths worldwide, and there are an estimated 12.7 million people living with a longstanding respiratory illness in the UK today. 
Cardiovascular and respiratory diseases are often congenital or inherited – meaning that life-long care is central to a way of working for healthcare providers. Those conditions that are acquired are more prevalent in later life, and obesity and other lifestyle factors mean that there will be a continued and increasing demand for services to treat these diseases. 

"To deliver the best patient care – healthcare is becoming less and less about single institutions and far more about collaboration and creating networks and systems of care. Organisations working alone are increasingly finding it difficult to deliver what patients need." 
Collaboration across our clinical and academic programmes is a key component of their success. We value our proud and rich history with the National Heart and Lung Institute of Imperial College London, a partnership which spans over 20 years. Our joint Institute of Cardiovascular Medicine, a partnership with Liverpool Heart and Chest Hospital supported by Imperial College, combines the resources of two leading cardiothoracic centres to deliver clinical research programmes that translate directly into clinical practice. Our membership of the South London Genomic Medicine Centre, along with partner hospital trusts such as Guy's and St Thomas' and St George's, will enable clinical genetics to be applied as a mainstream diagnostic tool for a population of 10 million. And our life-saving primary angioplasty service based at Harefield's heart attack centre is the culmination of over ten years' seamless working with the London, East of England and South Central ambulance services.
It is this willingness to adapt to the changing needs of patients, by forming new alliances and developing existing ones, that lies at the heart of our planned collaboration with King's Health Partners (the Academic Health Sciences Centre comprising Guy's and St Thomas', King's College Hospital and South London and Maudsley NHS Foundation Trusts and King's College London). We believe the collaboration has the potential to revolutionise cardiovascular and respiratory services for patients, creating a global powerhouse for heart and lung medicine and research in London, providing the best possible patient care and experience. The partnership will:
deliver world-class clinical services from before birth through to old age for common and rare conditions on a local, regional, national and international level, offering new treatments;
the organisations involved to deliver best practice care in modern facilities, making the best use of NHS estates;
provide a large-scale service for adults and children with heart and lung conditions, offering outstanding outcomes and sustainable care within a collaborative network;
allow the organisations to cement their place at the forefront of UK health research and build strong industry and commercial partnerships; and
train the next generation of clinicians and researchers, through extensive education including national and international training.
We look forward to updating you on our progress.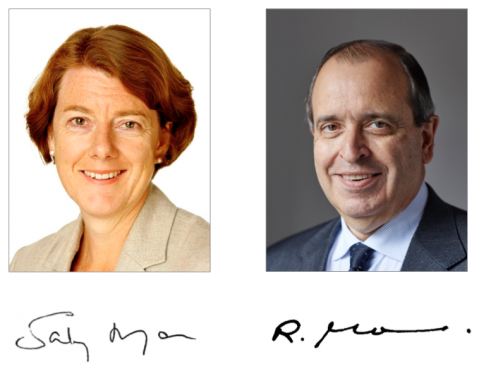 Sally Morgan, Baroness Morgan of Huyton Chair (left) and chief executive Bob Bell