The Trust's world class hospital arts programme, rb&hArts, delivers a comprehensive programme of high quality creative arts to increase levels of wellbeing and enhance our buildings and environment for patients. As well as curating the Trust's permanent collection of 1,200 valuable artworks, the rb&hArts team organises 250 workshops per year with around 5,000 people taking part - many of whom are accessing arts for the first time. 
Enhancing the healing environment and improving patient experience through visual art 
Digital artists SDNA, working with members of staff, devised a digital artwork to relax patients before surgery called Botanical Mandala, now permanently on display in the patient reception area of Harefield's theatres. 
Jacqueline Seifert brought the outside inside with her Everyday Landscapes installation on Royal Brompton's Foulis Ward. Cystic fibrosis patient Lauran Judd commented: "The art is fabulous, it's vibrant, and opens up the ward. The use of colour is uplifting, which is essential in helping healing and recovery time." 
Will Clarke wrapped London architectural scenes on the pillars in Royal Brompton's Outpatients East, and his work leads patients on a journey from reception to waiting rooms, to help them find their way to their clinic.
(image right: An image from the ever-changing Botanical Mandala digital artwork)
Live music for adult inpatients
Live music can aid recovery and soothe pre- and post-operative patients, providing distraction, amusement and joy. Adrian Garratt (violin) and Mark Levin (celtic harp) provided more than 250 hours of live music in 2016/17, reaching 500 patients and their visitors.
Patient Lisa Higgins said: "I was on Paul Wood Ward during the summer and the harpist came in and played, it was fantastic, really therapeutic and calming. All the patients seemed to relax and benefit from it and it made a real difference to our day."
Vocal Beats: for young inpatients 
The arts team provides two afternoons per week of participatory music-making and beatboxing activities for young patients of all ages. It could be bedside lullabies, creative music-making in the bays, or one-to-one vocal coaching for young people living with cystic fibrosis. Vocal beats is led by musician Heather McClelland, with support from beatboxers MC Zany and Grace Savage.
(Image right: Heather from Vocal Beats entertains a young patient)
Transplant & Life, by Wynne and Wainwright at Hunterian Museum, Royal College of Surgeons 
Artists often explore the human experience and issues pertinent to health. Transplant & Life was a sonic and visual arts project investigating the experience of transplantation and organ donation with patients from Harefield and Royal Free Hospitals. It featured five Harefield transplant patients who had taken part in the artists' previous project in 2006, providing a unique longitudinal study of people living with transplantation.
Hosted in the magnificent Hunterian Museum for seven months, it was seen by 50,000 visitors. It can still be explored online via an interactive digital guide available at www.transplantandlife.uk.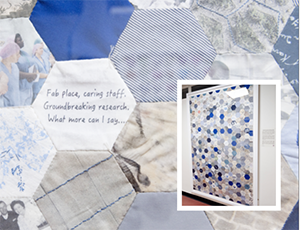 #Scrublife by Harriet Riddell 
Performance artist Harriet Riddell has spent time absorbing the life and spirit of the hospitals, lifting words and imagery from conversations with patients and members of staff, and her own observations. She then set up a mobile station to stitch a narrative and messages onto scrubs. These scrubs add art, poetry and uniqueness to an otherwise uniform outfit, worn in a potentially distressing environment.
(Image right: Detail from a quilt made by patients and supporters to commemorate Harefield's centenary)
Singing for Breathing 
Singing for Breathing provides two hours of vocal coaching every week to support people living with chronic obstructive pulmonary disease (COPD) and other respiratory diseases. Workshops are highly valued by participants and include warm-ups, relaxation and the teaching of new breathing techniques through breath workouts and vocal exercises, as well as singing a wide range of songs. The programme continues to be very popular, delivering 96 workshops in 2016/17, with 1,303 instances of participation from 71 singers. 
Akademi and Dance Well 
Akademi, a South Asian dance organisation, ran a series of creative movement workshops to increase levels of physical activity for older adults, to improve fitness, mobility and posture. The workshops were inclusive and offered peer-support and opportunities to socialise, and promote mental wellbeing.
The workshops have proven popular, with a regular core attendance of 30 people each week, and participants reported feeling engaged, happy, fitter, energised and more confident about themselves.
Thank you 
rb&hArts is charitably funded. None of its work would be possible without the support of its main funder, Royal Brompton & Harefield Hospitals Charity, plus other donors including Arts Council England, The Brompton Fountain, Co-op Community Fund, Doyle Carte Charitable Trust, Heathrow Community Fund, Patient Amenity Fund, ReBeat, Royal Borough of Kensington & Chelsea – Arts Grants Scheme, Samuel Gardiner Memorial Trust and Youth Music.