What we do
The team on the lung and heart day unit (LHDU) cares for patients who are undergoing treatment or a procedure that allows them to be admitted to and discharged from the hospital the same day.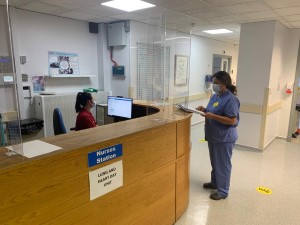 We treat patients with a wide range of lung and cardiac conditions across a number of specialties. Our experienced, multidisciplinary team offers a range of interventions and treatments, including:
Diagnostic tests

Specialist nurse consultations

Specialist consultant reviews

Support and interventions from our team of physiotherapists, dieticians, psychologists and palliative care nurses

Intravenous treatment and monitoring (including home IV therapy)

Asthma biologic therapies

Home monitoring services, including remote video and telephone consultations

Patient education and support, such as advice on how to manage your long-term condition. 
The unit
Opening times: Monday to Friday 8am - 8pm
The unit is located at the Fulham Road wing of Royal Brompton Hospital. Our appointment times are flexible, and patients can choose from morning or afternoon slots, to support work and caring commitments. 
The unit has 28 single en suite rooms and is divided into two sides - 'east' and 'west'. Each side has a dedicated nursing team for patients. 
Eating and drinking
A member of your healthcare time will let you know if you can eat or drink before your treatment or procedure.
Hot drinks are available during the day and we also provide lunch, which typically includes a selection of sandwiches. Please notify us of any specific dietary needs. 
Facilities available on the unit
There is a television in each room, but we advise that you also bring a book/phone/tablet with charger as there may be waiting periods between tests and treatments. We appreciate your patience during this time.
After your treatment or procedure
After your treatment or procedure, you will need to rest on the unit for a period of time, while we monitor your recovery.
Before you are discharged we will give you information about your aftercare and any follow-up appointments you may need.  If you require a further appointment on the day unit, your medical team will arrange this for you before you leave the unit.  In some circumstances we may be unable to organise your next appointment on the day and we will instead notify you by text or post. 
You should not expect to stay in the hospital overnight. However, if your healthcare team feels you need to be monitored for a longer period of time, they will discuss this with you.   
---
Contact us
If you have any questions about your treatment or care on the lung and heart day unit, please contact:
Lung and heart day unit
Phone: 0330 128 8308 (Mon-Fri, 8.30am - 7.00pm)
Tasmin Fernandes, sister, lung and heart day unit
Email: t.fernandes@rbht.nhs.uk
Bleep: 7102
Paul Lidgate, senior nurse and matron, respiratory medicine
Phone: +44 (0) 7484042012