Image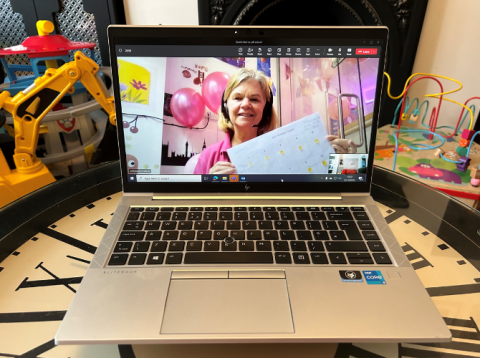 Royal Brompton Hospital's play team have been running a successful 'pill school' for many years to help children and young people move from liquid medication to tablets. Following its success, it's now available virtually to help guide patients to make this transition. 
 
For the last 8 years, the Royal Brompton Hospital play team has been delivering a 'pill school' programme to children and young people during their time in hospital. The team support families with daily medication routines and provide structured tuition. 
 
With advances in drug treatments for conditions such as cystic fibrosis resulting in a reduction in hospital stays and an increase in different clinical teams holding virtual outpatient appointments, staff at Royal Brompton Hospital recognised the opportunity to introduce a brand new 'virtual pill school'. 
 
Maxine Ovens, play service manager at Royal Brompton Hospital said: "We're delighted that children and young people with heart or lung conditions accessing our hospital's specialist services can now benefit from our pill school even when they aren't in hospital.  
 
"Swapping liquid medication to tablets has many benefits. Tablets are easier to transport and store, and reduce the risk of dosage error. They are also cheaper to buy, reducing the cost for both the family and the Trust."
 
One child who has already benefitted is 6-year-old Alexandra. Her mum, Suzanne, shares her experience of pill school: "Pill school worked brilliantly for our family. Alexandra has cystic fibrosis and has been taking medication in the form of granules since she was diagnosed at just 19 days old. Moving onto taking pills meant we could switch to a better medication, we tried it at home at first but struggled. The pill school made the process fun for Alexandra, building her confidence with small sweets. The team are expert at engaging young people, making them the centre of the conversation and it really worked for Alexandra."
 
Alexandra says: "It's a very good idea!"
 
Royal Brompton patients can be referred to the hospital's virtual pill school by their clinical team or families can refer themselves to the service.  
 
An initial assessment by a senior play specialist is carried out in-person in the outpatients department or virtually on Microsoft Teams, and they are either given or sent a pack including clear guidance, instructions and a sports water bottle. This initial assessment is then followed by a daily Microsoft Teams session with a senior play specialist who leads and supports the child or young person through their transition to tablet medication.  
 
The Brompton Fountain children's charity has supported this initiative by funding bespoke designs for the information packs, water bottles and rewards. 
Children's services at Royal Brompton Hospital and Harefield Hospital are part of Evelina London Children's Healthcare. Evelina London provides hospital care and treatment at its purpose-built children's hospital on the St Thomas' Hospital site and at Royal Brompton Hospital and Harefield Hospitals.