Information about upcoming events is posted here and advertised in Connect, the new digital newsletter for Trust members. 
Living well through Covid-19
Date: Friday 4 December




Time: 11am - 12.30pm




Location: online (joining instructions will be shared closer to the event date)
The pandemic has changed life as we know it and many of us are experiencing feelings of uncertainty, anxiety, burnout and isolation as a result. Join Christianna Kyriacou, lung team psychologist, who will explore these common thoughts and share tips on how you can look after yourself, better understand what steps you can take to ease the burden and what to consider in order to make informed decisions. Christianna will be joined by Charlotte Hogben, ILD clinical nurse specialist, to answer participant questions.  
To register for this event please click here
---
Contact us
If you would like further information about an event or to understand more about becoming a member please contact:
Nancy Dickinson
Corporate governance & membership manager
Telephone: +44(0) 20 7352 8121
Email: n.dickinson@rbht.nhs.uk
Learn how to become a Trust member
Past Member events
Covid-19: what current findings tell us
Date: Tuesday 24 November
Location: Held virtually
This was a unique opportunity for members to gain expert insight into the latest findings on how Covid-19 affects the cardiovascular and respiratory systems. Professor Thomas Luscher, consultant cardiologist and director of research, education and development, chaired this discussion with Professor Susanna Price, consultant cardiologist and intensivist, and Professor Dr Brijesh Patel, honorary consultant with adult intensive care and a lead researcher for a number of trials and studies on Covid-19. Speakers shared their experience of treating patients with Covid-19 and discussed how the latest research findings could shape future treatments and improve patient outcomes.
A recording of the event can be found here.
---
Patient care: present and future  
Date: Monday, 16 November
Location: Held virtually
This event allowed attendees to learn how patient care at the Trust is being transformed. Chaired by Dr Rishi Das-Gupta, chief information officer, the discussion covered the Trust's plans and aims for the future of patient care and how these have been impacted and in some cases, accelerated because of Covid-19. Penny Agent, director of allied clinical sciences & patient engagement and Dr Antonis Pantazis were also present to share first-hand experience of how recent changes have transformed the way care is delivered and received. 
A recording of the event can be found here.
---
Virtual coffee morning for parents and children (0-12) with cardiomyopathy -Tuesday, 6 October
Date: Thursday, 6 October
Venue: Held virtually
The inherited cardiac conditions (ICC) nurse specialist team held a virtual (video) coffee morning for parents and children aged 0-12 years with cardiomyopathy treated for in our hospitals. Guest speaker, Ellie Quinn (genetic counsellor) delivered a talk and information surrounding genetics and cardiomyopathy. The event aimed to bring together families from the comfort and safety of their homes to connect, meet and support each other.
---
Merger update with Q&A - Thursday 1 October
Date: Thursday, 1 October
Venue: Held virtually
Hosted by the Trust's Chair, Sally Morgan, Baroness Morgan of Huyton and Chair of the Membership Steering Committee and Patient Governor, Jeremy Stern, members were invited to listen to the latest updates on the planned merger between Royal Brompton & Harefield NHS Foundation Trust and Guy's and St Thomas' NHS Foundation Trust.
---
Virtual coffee morning - Thursday 6 August 
Date: Thursday 6 August 2020
Venue: Held virtually
Our first virtual members' coffee morning gave members the opportunity to learn more about Trust membership and how patients, their families and carers can support our work. 
---
Annual General Meeting of the Council of Governors and Members' Annual Meeting - Tuesday 14 July
Date: Tuesday 14th July 2020
Venue: Held virtually
The Annual General Meeting of the Council of Governors and Members' Annual Meeting of Royal Brompton & Harefield NHS Foundation Trust was held on Tuesday 14th July 2020. The main purpose of the meeting was for the Annual Report & Accounts 2019/20 to be presented to the Council of Governors and Members of Royal Brompton & Harefield NHS Foundation Trust.
Download annual report and accounts 2019/20
Tour of the hybrid theatre at Royal Brompton Hospital
Date: Wednesday 22 June 2016
Venue: Hybrid theatre, Royal Brompton Hospital
On Wednesday 22 June, 20 Trust members attended a tour of the hybrid theatre at Royal Brompton Hospital. This state-of-the-art facility combines the environment of an operating theatre with the imaging capabilities of a catheter laboratory and is used for treating patients with complex cardiac conditions.
Professor John Pepper, consultant cardiac surgeon, started the tour with a talk about how cardiac surgery has changed over the past 30 years. He explained that the hybrid theatre allows the Trust to offer more minimally invasive procedures, such as coronary artery bypass graft with coronary angioplasty, which involves inserting a stent via a catheter to treat a blockage in the artery. The hybrid theatre's advanced imaging technology, operating table and integrated computer software work together, which means operations can now be planned in advance in unprecedented detail.
Members then visited the hybrid theatre where Karen Shevlin, cath lab and theatre manager, and Dr David Alexander, consultant anaesthetist, showed them how the theatre operating table can be changed from a surgical table to a cath lab table. They also demonstrated the x-ray machine, which can move 360 degrees in any direction. 
"The tour was excellent, from the initial talk to the final presentation in the lab," said one member.
---
Tour of the primary ciliary dyskinesia unit, Royal Brompton Hospital
Date: Friday 22 April 2016
Venue: Primary ciliary dyskinesia (PCD) unit, Royal Brompton Hospital
Trust members were taken on a guided tour of the primary ciliary dyskinesia (PCD) unit at Royal Brompton Hospital.
PCD is a rare inherited condition in which the cilia – microscopic hairs found in the nose and airways – fail to adequately remove bacteria and particles from the respiratory tract. This leads to recurrent infections in the nose, ears, sinuses and lungs. If untreated, it can cause lung damage. The treatment is physiotherapy to help clear the airways, and antibiotics to help fight bacterial infections.
PCD affects fertility in some people, and up to 50 per cent of patients also have dextrocardia (heart on the right side) and situs inversus (internal organs being on the opposite side to normal).
Dr Clare Hogg, paediatric respiratory consultant and staff governor, discussed the diagnosis and treatment of PCD. She explained that cases are higher in populations where marriage between blood relatives, such as first cousins, is common.
Screening for PCD involves measuring the amount of nitric oxide gas present in the nose and looking at cilia under the electron microscope and on high speed video.
Dr Hogg explained that the PCD diagnostic service at Royal Brompton Hospital, one of only three in the UK, has been nationally funded since 2006 and sees around 400 patients each year. After the talk, members were given demonstrations of the different electron microscopes that enable the medical team to look at cilia and diagnose PCD. "The tour was superb," said one member. "The presentations were well thought out and given with an enthusiasm that made the subject come alive".
---
Skeletal muscle in COPD – why bother? Professor Michael Polkey, Royal Brompton Hospital
Date: Friday 22 April 2016
Time: 2.00pm
Venue: CRF Education Centre, First floor, Fulham wing, Fulham Road, Royal Brompton Hospital
Chronic obstructive pulmonary disease (COPD) is the name for a collection of lung diseases, including chronic bronchitis, emphysema and chronic obstructive airways disease. People with COPD have difficulties breathing, primarily caused by the narrowing of the airways (airflow obstruction). 
At this event, Professor Michael Polkey, consultant respiratory physician at Royal Brompton Hospital, spoke about COPD and the effect skeletal muscle weakness can have on the condition.
---
Visit to the children's sleep and ventilation unit, Royal Bompton Hospital
Date: Thursday 8 October 2015
Time: 1.30pm
Venue: Children's sleep and ventilation unit, Fourth floor, Sydney wing, Royal Brompton Hospital
A small group of Trust members enjoyed a guided tour of the children's sleep and ventilation unit at Royal Brompton Hospital. The unit provides comprehensive evaluation and care for children with sleep-related breathing disorders, which may be caused by difficult asthma, muscular dystrophy, obstructive sleep apnoea or other conditions.
Felicity Gray, paediatric respiratory / sleep physiologist, began the tour by explaining the set-up of a cardiorespiratory polygraphy, a sleep study that monitors body functions overnight to detect if there are any sleep problems or breathing issues.
Using a dummy patient, Felicity showed the complex equipment patients have to wear during an overnight study, including two soft belts strapped across the chest to monitor chest movements, sensors placed under the nose to assess breathing and special sensors on the head to observe brain wave activity.
Each bedroom has a video camera and audio equipment so that clinicians can check patients visually and aurally (for snoring particularly) as well as via the sensor information.
After Felicity's talk, the members split into two groups. Dr Hui-leng Tan, consultant in paediatric respiratory and sleep m.edicine, showed one group anonymised recordings and assessment information from previous sleep studies and explained the different types of sleep apnoeas and their symptoms. 
The other group met with Ruth Wakeman, advanced care practitioner in children's long-term ventilation (LTV), who talked about the clinical support, training and education the LTV team provides to allow children who are dependent on ventilator support to be safely discharged home when they are well enough. In the past, children have stayed on the unit for up to 18 months, but new discharge pathways developed by the team have reduced this to as little as three months. 
The event received great feedback and members asked many questions throughout the tour.
---
Pacemakers in 2015 and what the future holds – Dr Mark Mason, Harefield Hospital
Date: Monday 8 June 2015 
Time: 3.30pm–4.30 pm
Venue: STaR Centre, Harefield Hospital
A pacemaker is a device that regulates the heartbeat and can help if someone's heart beats too slowly. 
Dr Mark Mason has led the pacemaker device service at Harefield Hospital since 2001 and has seen huge, positive changes over the years. He described the history of pacemakers, how they are implanted, and talked about the latest pacemakers and future developments.
New pacemakers include:
A leadless pacemaker – a small implantable device that sends electrical pulses to the heart whenever it senses that the heartbeat is too slow. Leadless pacing devices are placed directly in the heart without the need for a surgical "pocket" and insulated wires (leads). They are very small –approximately 23mm long.

The subcutaneous implantable cardioverter defibrillator (S-ICD) – this subcutaneous (under the skin) device simplifies surgery. It has two main benefits over current devices – no leads are actually placed into the heart and removal or replacement is much simpler, reducing the potential risk of infection. These ICDs are particularly good for young patients who may have to have several ICDs implanted throughout their lives.

Implantable loop recorder – a subcutaneous, single-lead monitoring device used to diagnose patients with "unexplained" cardiac rhythms.
Dr Mason also explained developments in out-of-hospital monitoring:
Home monitoring of cardiac pacemakers allows Trust clinicians to observe a patient's heart rhythm over the internet, potentially reducing the number of hospital admissions.

Remote monitoring implants for patients with chronic heart failure alert doctors remotely to any decline in a patient's condition even before symptoms are experienced. The microelectromechanical system (MEMS) is inserted into the pulmonary artery.
Members found the talk fascinating. One member commented: "The total hour-and-a-half talk was engrossing".
---
Diabetes and cardiovascular disease, Harefield Hospital
Date: Friday 14 November 2014
Time: 11am
Venue: STaR Centre, Harefield Hospital 
Valerie Lapworth, clinical nurse specialist in diabetes, began the talk with an explanation of diabetes, which is a common condition that happens when your body is not able to use glucose (sugar) and convert it into energy. This is caused by lack of a hormone called insulin. 
There are two types of diabetes: type 1, where there is complete absence of insulin or type 2, where the body is insulin deficient or the body is resistant to the insulin produced.
Diabetes is a significant problem in modern life; 3.2 million people in the UK have been diagnosed with diabetes. 
Diabetes is more prevalent in people of the Asian and African Caribbean ethnicity and it is becoming increasingly common for children to develop type 2 diabetes caused by diet and lifestyle.
In the UK, it is suspected that there are 630,000 people who do not know that they have diabetes and, if diabetes is left undiagnosed, complications occur.  The long-term complications are diabetic eye disease, kidney disease, nerve damage (particularly in the feet), stroke, heart disease and peripheral vascular disease.
Heart disease is the most common complication. Eighty per cent of people with diabetes will develop cardiovascular disease. 
Diabetes is expensive costing the NHS around £10 billion per year, which equates to 10% of the total NHS budget. One in seven hospital beds is occupied by a patient with diabetes and one in four people who are admitted to hospital with heart failure, heart attack or a stroke, has diabetes.
Risk factors of coronary heart disease, which are modifiable are: 
Diabetes
Inactivity
Elevated blood cholesterol
Excessive alcohol
High triglycerides with low LDL
Excessive stress
Elevated blood pressure 
Smoking 
Non-modifiable risk factors for coronary heart disease are: 
Age
Gender
Family history of heart disease
Race
Valerie explained that people with cardiodiabetes (the term being used to describe the two conditions together) are also at a higher risk of developing: 
Atherosclerosis (arteries clogged up by fatty substances)
Hypertension (high blood pressure)
Hyperglycaemia (high levels of sugar in the body)
Atherosclerosis leads to formation of plaques, which narrow the large and medium arteries. 
Poorly controlled blood sugar, high cholesterol and high blood pressure damage the lining of blood vessels. People with diabetes are more likely to have multiple risk factors that accelerate coronary heart disease, and tend to have more extensive disease affecting more vessels than those without diabetes. 
Research shows that improving dietary habits, managing weight, keeping active and using medications where required to help control risk factors like high blood sugar levels, cholesterol and blood pressure reduce the chance of developing cardiovascular disease. 
Throughout the talk, members were encouraged to ask questions. Feedback afterwards was very positive and members commented that the talk was interesting, informative and easy to understand. 
---
Cardiac catheterisation laboratories' tour, Royal Brompton Hospital 
Date: Tuesday 16 September 2014 
Time: 1pm
Venue: Royal Brompton Hospital
Twenty-six trust members attended a tour of the cardiac catheterisation laboratories (cath labs) at Royal Brompton Hospital.  
Dr Simon Davies, consultant interventional cardiologist, started the tour with a talk about the history of cardiac catheterisation (angios). He explained that cardiac catheterisation was not a new procedure; it was first done in 1929 by Dr Werner Forssman – on himself! 
Dr Davies then described the different types of heart conditions treated in the cath labs. Examples of angiograms were shown with blockages in the coronary arteries being opened by coronary balloons and stents. 
Karen Shevlin, cath lab manager, and her staff divided members into two groups. The first group was taken to the cardiovascular biomedical research unit (BRU) laboratory and the second group to lab 2, which is used for paediatric procedures. 
In the BRU laboratory, members were shown the whole procedure of having an angiogram: how the patient is prepared (draped) to provide a sterile environment, the drugs used and how the X-ray equipment is moved by the radiographers. Members were given the opportunity to handle the different types and sizes of catheters, stents and plugs. 
The tour of Lab 2 demonstrated pictures on the X-ray screens with examples of congenital heart conditions both pre and post closure of the defects. They were also taken into the control room and shown moving images of a number of different cardiac procedures that are routinely carried out in the cath labs and were given the opportunity to "drive" the X-ray equipment. 
The groups then swapped locations so that all members saw both of these specialised areas. 
One member commented: "What an informative experience! Calmly explained, I would now have these procedures done with no fear."
---
Easy ways to help women (and men) be healthy and live longer, Royal Brompton Hospital
Date: 19 May 2014 
Time: 2pm-4pm
Venue: Education Centre, Respiratory Clinical Research Facility, first floor Fulham Wing, Royal Brompton Hospital, London SW3 6NP
Over 20 Trust members attended this talk entitled "Easy ways to help women (and men!) be healthy and live longer" by Professor Peter Collins, consultant cardiologist at Royal Brompton Hospital. 
Heart disease is the leading cause of death in women: 10 times more deaths occur from heart disease and stroke than from breast cancer. However, a lot of heart disease can be treated with lifestyle changes, medication and exercise. 
Professor Collins explained that whilst medicine can help you live longer, you can also help yourself by taking exercise, simply by walking for half an hour each day. The half hour can be done in a single sessions or broken into three 10-minute sessions. Exercise helps to maintain energy levels, lower total cholesterol, manage body weight, control the metabolic syndrome/diabetes and relieve stress.  
Heart disease occurring in women is very preventable and can be delayed. One of the problems is that heart disease starts when women are young and it then gradually worsens over the years, sometimes developing into a heart attack. Professor Collins explained that a heart attack (where a blood clot blocks an artery in the heart) can cause heart muscle death within 15 minutes so the sooner the clot is opened the better the result will be. 
The top three risk factors for developing cardiovascular disease are hypertension (high blood pressure), diabetes and cigarette smoking. 
Throughout the meeting, members asked pertinent questions about heart disease, and following the talk, the membership team received some excellent feedback. Comments included: "the talk was interactive, practical and not too technical" and "the presentation was extremely informative and well presented." 
---
Advances in cardiomyopathy: what we are doing and where we are going – Dr Sanjay Prasad, Royal Brompton Hospital
Date: Wednesday 27 November
Time: 6pm 
Venue: Respiratory biomedical research unit, Fulham Road, Royal Brompton Hospital
On Wednesday 27 November 2013 over 30 Trust members attended a talk entitled "Advances in cardiomyopathy – what we are doing and where we are going" by Dr Sanjay Prasad, consultant cardiologist at Royal Brompton Hospital. 
Cardiomyopathy is a disease of the heart muscle and a leading cause of heart failure. Dr Prasad explained the different types of cardiomyopathy: hypertrophic, dilated and arrhythmogenic right ventricular. He also spoke about treatment for chronic heart failure, including prognosis, morbidity and prevention. 
One of the most important approaches for the successful treatment of cardiomyopathy is early diagnosis and, as the disease is often inherited, Dr Prasad and colleagues have started a cardiomyopathy clinic, where an entire family can be screened for the condition. Appropriate treatment can be given at an early stage, which helps those confirmed with the condition to live a full and active life. 
Royal Brompton & Harefield NHS Foundation Trust is active in research in cardiomyopathy, which Dr Prasad agrees is the way forward in discovering the best treatments. For example, cardiovascular magnetic resonance (CMR) has already proven a better tool for diagnosing heart failure caused by dilated cardiomyopathy (DCM) than a standard angiogram. Dr Prasad showed images of several cases of cardiomyopathy, explaining their background and the differences between each.
Dr Prasad also talked about genetic research into cardiomyopathy where recent breakthroughs have been made; first in identifying a mutation in the Titin gene, which is found in one in four patients diagnosed with DCM, and second in the Trust's involvement in a gene therapy trial for heart failure where five patients have had extra genes inserted into their heart muscle cells using a harmless virus. This is a worldwide trial and 200 patients will take part. So far 50 have had the extra genes inserted.
Several magnetic resonance images (MRI) were shown to the members and Dr Prasad explained that MRI together with genetic testing is used to provide more detailed information, particularly to see if there is scarring of the heart or if there is inflammation and thickening of the heart wall. Royal Brompton Hospital is the world leader in cardiac MRI and offers frequent assistance to international colleagues.
Peter Klinger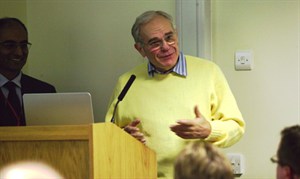 Towards the end of his talk, Dr Prasad invited Mr Peter Klinger, a patient with cardiomyopathy, to the podium to talk about living with the condition, the symptoms of which he had first experienced as a child when he became breathless after the smallest exertion. 
He has been a patient at Royal Brompton for 10 years, and said the care and treatment he has received have greatly contributed to the good quality of his life now. 
Several members asked pertinent questions about the MRI images and were also keen to know how to improve the quality of life of patients with cardiomyopathy.  
Feedback from the talk, which was the second event in the Trust live members' programme, was very positive. One member commented: "The talk was interesting, simple to understand and informative. The time flew by, I could have stayed listening all night." 
---
Cardiac catheterisation laboratories' tour, Harefield Hospital
Date: Wednesday 16 October
Time: from 2.00pm 
Venue: Cardiac catheterisation laboratories
This was the first member event in a new programme that will see Trust members invited to both hospital sites to gain knowledge and understanding of our work and specialisms. 
Cath labs, as they are known, are rooms with X-ray equipment where heart disease is diagnosed and treated.
More than 20 members attended tours of the state-of-the-art cardiac catheterisation laboratories at Harefield. Attendees met members of the cardiac cath lab team, and were taken in small groups to view the hospital's specialist equipment.
The hospital's chief cardiac physiologist demonstrated the workings of the heart and the electrophysiology equipment.
Members were also shown X-ray equipment, catheters and stents used in procedures such as primary angioplasty.