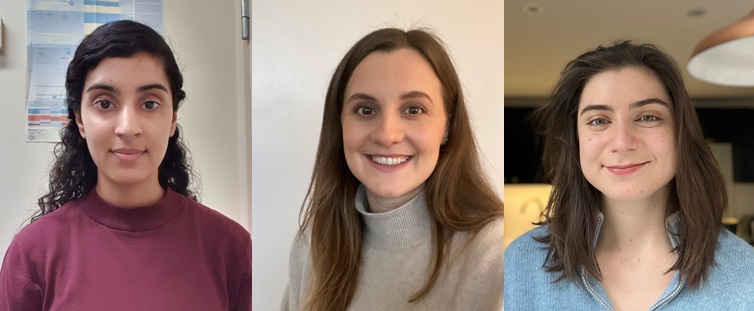 Congratulations to three members of staff at Royal Brompton and Harefield hospitals (RBHH) who have been awarded funding through the newly launched Clinical Academic Career Development Programme (CACDP).
Funded by the Royal Brompton & Harefield Hospitals Charity, the programme supports non-medical staff to work in junior clinical academic roles at RBHH for one year, within clinical departments at the hospitals.
The junior clinical academic role allows individuals to undertake a role which is 50% research and 50% clinical, with the research component supported by this funding scheme and the clinical component funded by the department where the staff member will work.
The programme was the brainchild of Dr Sam Irving, chief paediatric respiratory research physiologist, Dr Catherine Renwick, consultant nurse, Dr Claire Nolan, specialist pulmonary rehabilitation physiotherapist, Haifa Lyster, consultant pharmacist and Gemma Stanford, specialist physiotherapist in adult cystic fibrosis who worked alongside Mr Lyndon Bridgewater, associate director of research, to bring it to fruition.
Dr Irving highlighted the importance of the programme; "Clinical academics undertake both research and clinical work, helping to bring really patient-focussed research into the clinical environment.  Developing the role of clinical academics in healthcare professions is a key target of NHS workforce development, and we are delighted to have had the support from the Charity to create these new posts at our hospitals.  
"All three successful applications offered a great clinical role, fully embedded in our services, alongside the opportunity to conduct research that will benefit patients and kickstart clinical academic careers for these staff members."
Read more about the recipients of the programme below.

Ranjit Rai, paediatric Primary Ciliary Dyskinesia (PCD) diagnostic
Ranjit works in the paediatric PCD diagnostic service and her clinical role within the department includes the assessment of nasal brushing biopsies and cultured cells using different microscopy techniques.
Alongside the clinical work, Ranjit will also be working on a research project which aims to establish a new cell culture approach, aiming to reduce the time to culture cells and minimise the use and costs of reagents and consumables.
Ranjit said: "I'm really looking forward to starting this project. Culturing human airway epithelial cells is an area of my job that I enjoy and find incredibly valuable in enhancing the diagnosis of PCD and for its use in other areas of research. Having the opportunity to be involved in a project that develops this technique and my skillset further is really exciting."
Thomas Burgoyne, who manages Ranjit said; "The funding will help to enhance our research and diagnosis of primary cilia dyskinesia through the training of the excellent diagnostic scientist, Ranjit Rai. This will give Ranjit the opportunity to learn cutting edge lab techniques and for us to apply for further funding to continue her development as a clinical researcher."

Lizi Briggs, genetic technologist
Lizi works in the Clinical Genetics and Genomics Laboratory and her clinical role includes genetic analysis and result interpretation, diagnostic report writing and training of other staff and students.
In addition to her clinical work, Lizi will be working on a research project which aims to solve clinical cases and enable carrier testing in family members. The findings of this project will help inform genetic testing strategy for heterogeneous rare diseases and provide a better understanding of the role of genetic variants in recessive diseases such as PCD.
Upon receiving the award, Lizi said: "I am very grateful for the funding support from the Clinical Academic Career Development Programme and the exciting opportunity it presents to continue with my project on identifying potentially pathogenic variants in non-coding regions of the genome.
Deborah Morris-Rosendahl, head of clinical genetics, believes the programme is perfect for Lizi. She said: "With a distinction and the Dean's prize for her MSc in Genomic Medicine at Imperial College London, Lizi is an excellent candidate for the Clinical Academic Career Development Programme. Lizi will be continuing work on a research project that she began for her MSc, which promises to have a substantial impact on genetic diagnosis for patients in the future."

Jennifer Kilduff, physiotherapist
Jennifer works in the Host Defence unit and her role includes providing specialist physiotherapy advice and treatment. This includes reviewing airway clearance for inpatient and outpatients, and helping to run a rapid access clinic with the medical consultant team, where follow-up and personalised therapeutic interventions are provided to unwell individuals in the community.
Jennifer's research work will involve co-designing a bespoke bronchiectasis post-exacerbation pulmonary rehabilitation intervention to improve outcomes in patients with frequent exacerbations.
The intervention will be a tailored 8-week physiotherapy rehabilitation programme, with the aim to determine whether it is acceptable and feasible in bronchiectasis patients receiving antibiotics during an infective exacerbation, and whether it increases the time to the next exacerbation.
Jennifer said she is "honoured to have received this award, and I look forward to developing my clinical academic skills and knowledge thanks to this programme."
Lizzie Grillo, specialist adult physiotherapist, believes this will be "a fantastic opportunity for Jennifer, but also a great chance to increase the research output of allied health professionals within our hospitals.
"Awards such as these support staff to engage in research roles alongside their clinical development, helping to grow a strong community of clinical academics of the future."

To find out more about the research funding opportunities available to staff, visit our webpage.