Brompton Flowers is our own on-site florist. You can buy flowers for patients when you come in to visit them or even order by telephone.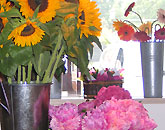 All the shop's florists are members of the Friends of Royal Brompton Hospital and give their time voluntarily.  Profits from the shop go towards projects run by the Friends, who are a registered charity. 
Because our shop is run by volunteers it can keep its prices down and benefit patients by funding projects that help them.
Brompton Flowers also sells near-new and second-hand books for £1 to £3 each.
Tel: 020 7351 8271 (An answerphone operates out of business hours)
Telephone orders
The shop is unable to take credit card payments by phone, but you can place an order and send a cheque - your flowers will be delivered when you place the order.
Read more about the Friends' work at Royal Brompton & Harefield NHS Foundation Trust.
Opening hours
Brompton Flowers is open weekdays.
---
Find out how to donate to the Friends of Royal Brompton
Charity number: 278058