The transition clinic
You might wonder why you need to move. At the moment, we care for you in children's services and your parent/carer(s) have made all the decisions about your health and wellbeing for you. But becoming a teenager means that things will start to change: you'll become more independent and get more of a chance to make your own decisions.
Your body will also start to change, which means that in the move towards adulthood, you'll start to require different care, too. The doctors and nurses in adult services are experts in caring for adults with heart conditions, so they can provide all the care you need as you get older. 
Start of transition ( aged 12-13)
If you've been with us in children's services for a long time, the thought of moving to an adult ward can be worrying and confusing, which is why we want you to spend time in the transition clinic. Your time here is designed to make the gradual move from child to adult services seem less scary, and provide you with all the information and support you need - before and after the move. 
How it works
We will invite you to the transition clinic when you're about 12 or 13. You'll have a number of appointments, although we can't say exactly how many because that depends on how much support you need.
Your transition nurse
At the clinic, you'll see a transition nurse - a clinical specialist, trained to help young people with congenital heart disease, who can support you as you move to adult services. Your nurse will:
explain all about your move to adult services
talk to you about your heart condition, the procedures you may have had, care, and medication
help you learn more about your condition and how to become more independent
Your nurse will also be happy to talk to you about other things and provide information about the other things which may be affected by your heart conditions, like:
a healthy lifestyle and good dental hygiene
feelings and emotions
exercise and symptoms to look out for
school/college/university
career choices
sexual health
care and holiday insurance
As well as answering your questions and telling you about support groups for young people with congenital heart disease, you can also talk to them about anything else which might be bothering you.  
Transition plan
The nurse will write a transition plan for you, so you know exactly what happens next and when. 
Each appointment lasts about one hour, although there is plenty of time for any questions you may have after. You can go to the clinic on your own or with your parent(s) or carer(s).
Your appointments
Until you reach 15, you will go to the Rose ward whenever you need treatment and tests. When you reach 16 - depending on you as an individual, and your needs - we'll assess whether you can start going to the Paul Wood ward. 
Reaching 16
The actual move to adult services should happen at the age of around 16. When you move to adult services, you won't need to explain everything. Working closely with the doctors in the children's services, doctors in adult services have expert knowledge of congenital heart disease. We are one of the larges specialist centres for adult congenital heart disease in the world.
The adult ward
The adult ward, called the Paul Wood ward, is for patients over 16. Beds are in bays and you only share your bay with people who are the same sex as you. There are bathrooms, and toilets for men and women, near your bay.
You'll have access to wifi, a computer room, and a room where you can watch tv and eat your meals.
If you're still at school, the hospital has teachers and a school to help you with your education. Ask your transition nurse about the hospital school.
If you would like to visit the Paul Wood ward, ask your transition nurse. You can also meet other young people who have moved to adult services, if you'd like to.
Regular check-ups and university
Some patients go away to university. Their congenital heart problems may be simple enough for us to discharge them from regular care, but for others, the main thing is to keep having regular check-ups.
Regular check-ups are the most important way of looking after your health, so we need to know if you change your address or go away to university.
As you get older you will become responsible for making and attending your outpatient appointments. Remember that it is very important to let us know if you are unable to attend an appointment you have booked.
Find out more about congenital heart disease in children. 
Transition days
Transition days (held in London), are a great way of getting more information and meeting other young people with congenital heart disease.
Your care, your future
In June, 2018 the Your care, Your Future event invited young heart patients with a learning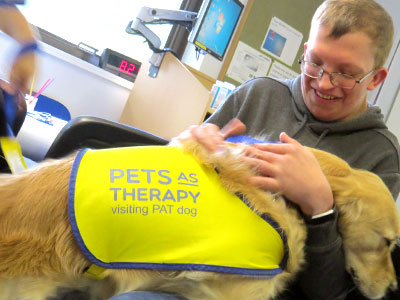 disability to Royal Brompton. The event aimed to bring teenagers with CHD together at an adult congenital heart disease service event. It encouraged younger patients to make new friends and hear from inspirational speakers with learning disabilities. 
Transitioning from paediatric to adult services can be upsetting for patients, but it is made even harder to understand with the added difficulty of a learning disability. We wanted to try and stop that potential upset by introducing this event, and help them ease into adult services in a way that is more appropriate for them.' (Loredana Haidu, clinical nurse specialist)
The event includes a range of activities supported by a multidisciplinary team of play, and clinical, nurse specialists, consultants and practice educators who are all involved in helping young people prepare for their move to adult services. 
Rhythmic Beats
The Rhythmic Beats event in 2015 included expert advice about diet, exercise, smoking drugs, alcohol and sexual health from nurses, doctors and other experts. Speak to your transition nurse if you're interested in going to either of these events. 
Educational information
You can get more information about congenital heart disease or lifestyle issues such as contraception, insurance, finance, employment and health (physical and mental) from:
Contact us
Congenital heart disease transition team:
Virginia Castro Meira - lead nurse
Loredana Haidu - clinical nurse specialist
Adrienne Cottam - clinical nurse specialist (covering for Jos Fox during maternity leave)
Cristiana Silva - clinical nurse specialist
Ann Marie Johnson - medical secretary. 
To find out more about who will look after you, the clinic itself, or if you need to change your appointment, either you or a parent/carer can call the clinic on 0207 351 8764, from Monday to Friday, 9am-5pm. You can also email: transitionchd@rbht.nhs.uk